Chris keeps correcting me. It is NOT Staines. It is Staines upon Thames!
With very full tummies, we headed to mooch around the shops.
Our first stop was Games Workshop. Last weekend in Dymchurch, Chris had dug out his old Warhammer stuff which his mum had stored in her shed and Matthew was completely mesmerised! So this shop was only a new experience for us all.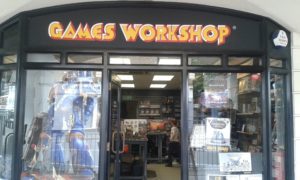 Wow.
The staff are the friendliest people I have ever met, they spoke to the children as equals and let them see and touch the massive games that were displayed. There were equally lovely other customers who were willing to show their own models and figures. Everyone was so enthusiastic and welcoming. It was a totally lovely experience and we bought some sets to get started on our new family hobby!

The high street has lovely tree avenues that are perfect for children and the most fascinating statue of 2 men carrying carpet!
We visited a few more shops to buy books for Zach and new drawers for the children's bedroom. There was even time to go on a merry-go-round. We headed back to the car and I was impressed that the car park fee was only £2! Excellent!

We loved Staines and will head back soon for more fab food at Jimmy's and the fab atmosphere of Games Workshop.