At the start of the summer I enjoyed a delicious two course meal at the White Lion in Yateley. I have been to this pub many times in the last 25 years (it is also the venue for my book club) but I have never eaten there before.
As always, I had researched the food options before agreeing to attend the dinner which was a work social event.
My main course was a penang curry. The flavours were good and I liked the chilli on top which could be removed if you don't like things too spicy (obviously I do, my plate was almost licked clean!)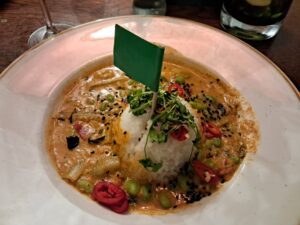 Oops… forgot to take a photo of the chips before I'd eaten most of them… Perfectly crispy on the outside with a soft and fluffy inside.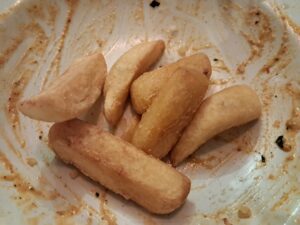 I don't normally go for puddings but, as everyone else was and it wasn't the usual boring sorbet that is offered as a vegan option, I couldn't resist the crumble.
Now I am the queen of crumbles at home thanks to my mum. I can't eat raw fruit due to oral allergy syndrome inherited from my dad so crumbles were a way to get us to have cooked fruit regularly. One of my faves from childhood and now one that my own kids love. The White Lion version was tasty and a substantial portion whilst the vegan custard was lovely.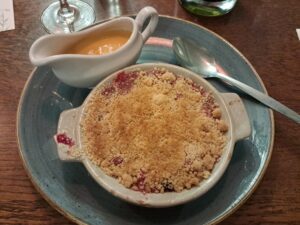 I was very impressed with my vegan and gluten free food, and would definitely visit the White Lion again for a meal.