A hearty breakfast then a brisk walk to the National Railway Muesum, reliving the scenes frmom York that we remembered from our holiday 3 years ago.
Matthew's train obsession still simmers alondside his dinosaur one and he greeted the engines like old friends (well, they pretended to be chased by Eurostar but that's the same thing 🙂 ).
We were slightly disappinted that Mallard wasn't in a prominent place like last time and we couldn't go inside. A few days later on the news, it became clear that she was being cleaned and polished for a special trip out.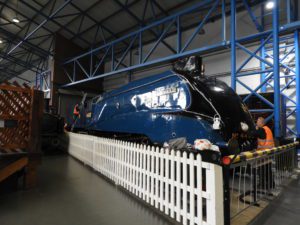 We were surprised that Mallard's sister engine Sir Nigel Gresley was still in pieces as we expected that 3 years of progress would have shown significant rebuilding by now. We only spent an hour here as we had been twice on our previous trip to York.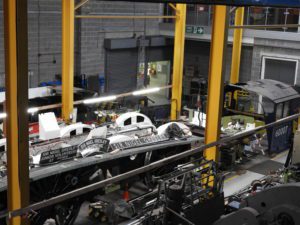 This time we headed northwards towards Shildon, home to NRM's sister location of Locomotion. None of us had ever been here before so we were excited to see more engines.
Incredibly, as we arrived, Matthew spotted an engine and yelled 'It's Flying Sotsman!' Cynical parents dismissed him and told him not to get his hopes up. We's seen Flying Scotsman from the viewing platform at the NRM 3 years ago as it steamed away from York station: what were the chances of seeing it again?
Well, it turns out that Matt was right and as we got into the front yard we could see Flying Scotsman in all its glory.
Once we could tear ourselves away we enjoyed the rest of Locomotion, including Bulleid's Winston Churchill and Green Arrow.
Our final stop in England was Corbridge Roman Town, an English Heritage location along Hadrians Wall. It was a beautiful site and strange to imagine it as a bustling town 2000 years ago.
An hour more of driving and we had crossed into Scotland! We stopped off at Jedburgh. We arrived at 4pm so there was only time for us to visit one attraction. The abbey was beautiful to admire as we walked past, but we made our focus on the house where Mary Queen of Scots stayed before leaving Scotland forever.
Our final stop of the day was out horel for the night, a Premier Inn to the east of Edinburgh. We ate dinner at the linked restaurant and it was gooooood, just what we needed after a busy day!