Another wet day so we abandoned the rural delights of Wales and headed to the city of Swansea. We started off in the museum and were greeted by the fossil of a plesiosaur: a great start!
There are a number of galleries at the museum: one covers archaeological discoveries, another has more recent history and clever inventions from the past 200 years. There is a room with an Egyptian mummy in it and an exhibition of Wales during the First World War which was both uplifting and heartbreaking with the real life stories it shared.

There was a playroom for the child to enjoy whilst we took in the more sombre elements of the exhibits.
We then walked into the city centre and had a very disappointing Nandos. My order wasn't available so I chose something else which was cold. No one came to check on us and the place seemed very understaffed so we couldn't even complain. What a disappointing contrast to the day before!
Next we walked up to the ruins of Swansea Castle.
We did a little shopping then decided to go on a road trip to the Mumbles and Gower Peninsula. The rain was back so we didn't fancy trying to sneak past the seaside playground.
We attempted to park to visit a castle but there was nowhere available 🙁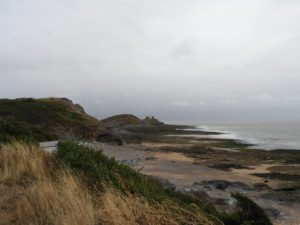 When we got back to the lodge, the rain had cleared so we went to explore the grounds of Pantglas Hall and found the beautiful ruin of the old hall.