Awkward photo alert! This was taken in 2008 (OMG 10 years ago!!!)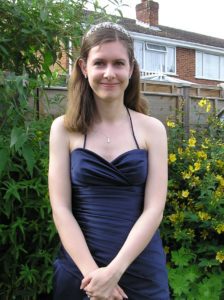 This was when I was working in a secondary school and went to the Year 11 prom. It was a lovely evening, seeing the 'children' as they morph into adults and move on into the world.
The Year 11s at the secondary school I work at now are already gearing up for the prom. There are posters up and here they have to earn their prom ticket by focusing on their revision and exams. I know from past experience that they will not really resemble the stroppy teenagers that I see in the exam room! Instead they will be glowing with anticipation of a fabulous night ahead as well as the future lying ahead of them.
I almost didn't go to my own Year 11 prom. I have always hated the idea of being dressy (oh heck, wedding in 6 months…) and I hate having my photo taken. At the last minute I begged to go. I'm so glad I went but I wish I had agreed to attend earlier so I could have chosen a flashier dress and not been wearing my mum's shoes!
I think I was one of the first to sign up to my Year 13 prom and it was a great evening. I had hours of fun choosing a dress and accessories with friends. I finally felt grown up, perhaps even verging on body confident! By this time the prom concept had taken off in the UK and an outside venue was chosen to make it more special (my Year 11 prom was held in the school canteen!) and now I think the phenomenon has grown even more!
I took a selection of dresses with me to university as there were 2 balls a year, although I didn't attend all of them. My personal choice for a formal dress in longer length but I often struggle to find full length dresses due to my petite height so usually opt for just below the knee so I'm not swamped.
Back in those days the internet was still quite a new phenomenon. I have recently been searching for a wedding dress and I can't imagine not being able to source everything online.
There is a website called https://www.promdressfinder.co.uk/ which is dedicated to everything prom, from dresses to hair to transport. It fully understands that your prom is one of the most exciting nights of your life as you wave goodbye to your school years and mark your entry into the adult world.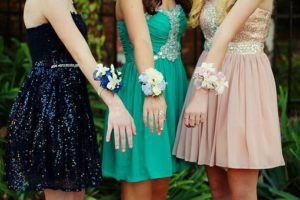 There are dresses and ensembles to suit every style, colouring, body shape so feel free to have a browse! There are also articles about the latest trends in accessories, make up and hair (also very helpful for me as a bride!)
Growing up I used to watch the inventive ways that Year 11s went to their proms including a motorised bed, desks as well as the classic limo. The Prom Dresses website has tips on how to make a memorable entrance.
I suppose in only a few years (which will

race by
!)

I'll be preparing my own children for their proms. I imagine the prom will continue to grow in popularity and I can't wait to see my children dressed up ready to face the future.
Have you got a teen preparing for their prom this year? Have they already chosen their outfit?
*Collaborative post