*I received this set for the purpose of this review. All opinions and photos are my own
Sushi is something that I have eaten a few times from the supermarket but always felt too daunted to try to make myself. No need to fear! The Sous Chef sushi making set contains all the main ingredients needed to make vegetarian and vegan sushi!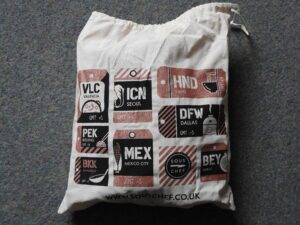 The sushi making set comes in a gorgeous bag with metallic detail. The bag contains sushi rice, sushi vinegar, a bamboo rolling mat, seaweed sheets, pickled ginger and wasabi paste (all items are vegan except the last item which contains milk)

Sous Chef have created easy to follow instructions that take you step by step from the cooking of the rice to the assembly and eating! I requested a bottle of gluten free soy sauce (the link is on the sushi making set's webpage so is easy to find)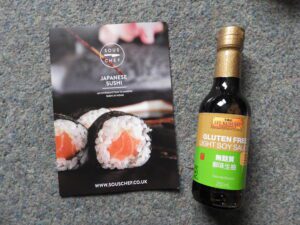 Time to get sushi making!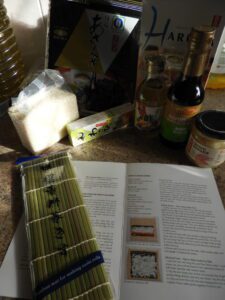 I started by cooking the rice according to the instructions, then spread it out to cool and added the sushi vinegar.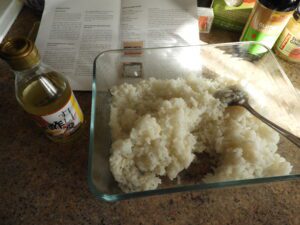 Next, I chopped up some pepper and cucumber. Any vegetable could be used or tofu, meat, or fish if preferred. I laid out the sheet of seaweed and sliced in half as advised by the instructions.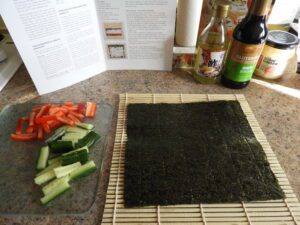 I topped the seaweed with the rice and veg and then used the mat to roll into a cylinder.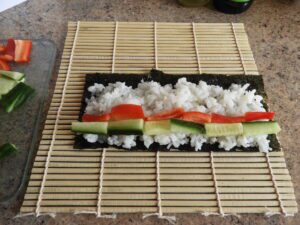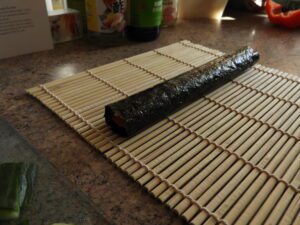 Finally I sliced the roll into bite sized pieces and poured some soy sauce into a small dish as a dipping sauce.
Chris managed to find some chopsticks from somewhere but I ate with my fingers! The pickled ginger was refreshing between mouthfuls. Even the kids were eager to try the sushi and it was very quickly gobbled up 🙂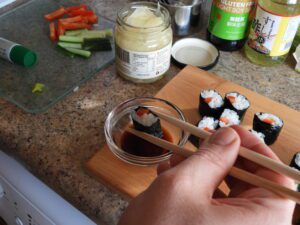 The Sous Chef sushi making set has an RRP of £18.99 and would make a lovely gift set for foodie fans and anyone who loves Japanese flavours.