I will start off by saying I was a complete snob when I tried this.
I had seen Aldi's Lacura range in store before and thought there was no way a supermarket brand would compare with my own beloved

Avon Vitale

day and night creams.
Aldi, I am sorry. I was wrong!
Recently the specialbuy section offered limited edition day and night creams, night eye gel cream and morning serum at £3.99 each. The packaging is really pretty, metallics and purple, yay!
Next confession: I have never tried a serum before so had no idea at all what to expect but I wanted to get the whole set so bought it anyway.
OMG these products are fantastic. I have been using them for about a month now and have noticed a real difference in my skin. The texture of the creams are opposite to my usual Avon ones (the day cream is thicker than the night cream) which took some getting used to.
My skin feels smoother and plumper than before and I am certain my lines are not as noticeable. The creams absorb into the skin quickly and easily.
So the downside…
The serum has left me a bit confused. My skins feels slightly greasy all day after using it but there is no obvious residue so other people wouldn't notice any difference. I have no idea if this is usual as I have never tried one before so let me know if this happens with your products!
I would prefer the day cream to have SPF protection in it. I would have liked an eye cream for the day to be included in the set: there is a day and night eye cream available which I have just bought but not tried yet (see video below).
I was majorly impressed by the Lacura products from Aldi and would not hesitate to try them again. I will certainly keep and eye out and buy them next year when they are the weekly specialbuy again.
Here is my latest Aldi haul:
And now for the competition! I showed you in my video the jewellery set I have bought to giveaway to one UK reader, a little pre-Christmas thank you for reading my blog 🙂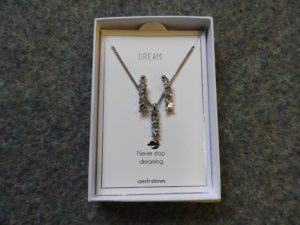 Linked up with #snapped up