My review:
I had not read either of the previous books by Daisy White which feature Ruby Baker but this did not get in the way of me enjoying this third novel.
Ruby is having a day out at the races when a woman is killed by running into the horses: was she deliberately trying to kill herself? Was she protesting in the same way as Emily Davies the suffreagette? Was she murdered?
The young woman was Rita Stonehill, a local girl with a troubled love life and sad home life. Her brother asks Ruby to investigate as the police are convinced it is suicide and won't look any further into the case. The local stables are set on fire, a horse goes missing and Ruby is convinced these crimes relate to the death of Rita.
I didn't realise that the book was set in the 1960s until I read about photos needing developing and decided to go and read some background info about the other books. My sister went to uni in Brighton so I know the area reasonably well and this added to my enjoyment of the book.
This was a good mystery story and there were plenty of twists and red herrings. The world of the 1960s is described well and the characters make the reader concerned about their wellbeing. I know very little about racing but this was not a problem to understand the situation being described in the book.
I would now like to read the other books in the series and wonder what will happen with Ruby next as her family issues are brought to the fore right at the end of the book.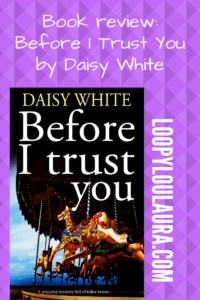 Book blurb: BEFORE I TRUST YOU by Daisy White
Do you love gripping mysteries? Then discover Ruby Baker, a young woman with a talent for uncovering the truth.
Rita Stonehill runs in front of the horses on a sunny day at Brighton racecourse. Why did she kill herself and is there more to it than meets the eye?
Ruby Baker is shocked to witness this dramatic event. Rita's brother thinks she was murdered, but there's no evidence to suggest that.
It seems like an open-and-shut case of suicide, but as a sordid love triangle emerges, is there more to it than that?
Ruby plunges into the glamorous world of horse racing to discover the truth. This is her most dangerous case yet and Rita's death strikes very close to home for Ruby.
And then Ruby's best friend Mary experiences a very shocking event . . .
Discover a gripping new mystery writer today. Great for fans of Agatha Christie or LJ Ross.
This is the third book in a mystery series set in 1960s Brighton, a tumultuous time of change and opportunity.
RUBY BAKER SERIES
Book 1: BEFORE I LEFT
Book 2: BEFORE I FOUND YOU
Book 3: BEFORE I TRUST YOU

Author Bio
Hi I'm Daisy White – mum, entrepreneur, and writer. I started off self-publishing, then signed YA series to two fabulous US publishers.
I've always wanted to write crime but none of my initial manuscripts were anywhere near good enough to show the world!
In 2016 I rewrote an earlier idea and entered it into the UK International Novel Writing Competition. It was long-listed and that gave me the confidence I needed to submit to publishers.
'My second novel for Joffe Books, and book two in the Ruby Baker Seaside Mysteries, 'Before I Found You', was published in Feb 2018 and became an immediate Amazon bestseller.
My first story for younger children will be published in an anthology for Patchwork Raven later this year. I'm also finishing off a standalone thriller, which I'm really excited about!
Writing is an obsession, and a passion, and I am extremely lucky to have been able to develop my dream into a business. I enjoy sharing my journey, and the knowledge I have gained along the way. I also love to meet other writers, readers and business owners.
Links
Website: https://daisywhiteauthor.co.uk
Twitter: @DEWhiteAuthor
Facebook: https://www.facebook.com/DaisyWhiteAuthor/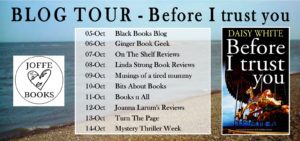 [amazon_link asins='B0742FCJQQ,B0799PG6T3,B07HYXG37F' template='ProductCarousel' store='tiredmummyblog-21′ marketplace='UK' link_id='4aa86515-cb8c-11e8-9e09-6d469c0279ec']