No?
Well, your children may have. Every primary school in the country was gifted a set!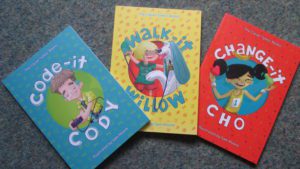 So who are the Clever Tykes? They are three children who use their personal skills and interests to be successful.
The books are predominantly aimed at 6-9 year olds, with the language and format better suited to the older end of the age range in my opinion. Younger children will enjoy having the stories read to them and the concepts can be readily understood by children as young as 4 (my daughter Anya!).

My own favourite from the set is Code-It Cody. I really want my children to be confident with using technology and computers. In developing my blog, I have used coding for the first time ever and it was daunting! Computer and digital technology is going to continue to play a major role in the future and I want my children to have all the skills needed to be able to adapt to whatever job they find.
As you can see, even Zach wanted to join in with the reading! Matthew was more than capable of reading the books by himself. As I mentioned above, Anya needed to be read to and the pictures dotted throughout the text helped to keep her focused on the story. They enjoyed the plot and liked the main characters.
The books use a good range of language so plenty of interesting verbs, adverbs and adjectives, perfect for supporting the school curriculum. Code-It Cody had little descriptive content but the other books had more. I personally did not like the style of the illustrations but they were distinctive and cartoon-y to engage children. The plot gave opportunity to discuss potential solutions with the children and this helps to confirm their comprehension of the text, another key feature of reading assessment.
The Clever Tykes stories aim is to help parents and teachers inspire and empower children to be creative and proactive, ready for the work life ahead of them. The books are sponsored by Lloyds Bank, with a view to inspiring children to create businesses of the future for themselves, their community and potentially their country.
*I was sent these books for the purpose of this review. All words, pictures and opinions are my own.