Have you used wax melts? This week I tried them for the first time and loved them. Thank you so much to Teddy Eva Scents for introducing me!
Now, confession time. I actually had no idea what wax melts were until I Googled it when they arrived 🙂 Many years ago I had an essential oil burner but do you think I could find it at my parents' house? Nope, but luckily I was able to borrow a melter from a friend (thanks Toni!)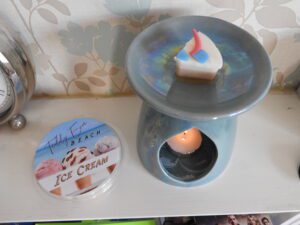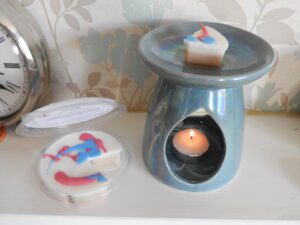 Teddy Eva Scents offers a subscription box and this month's theme is 'beach'. This was perfect for us as we have missed out on going to the beach this year so some summer seaside vibes were just what we needed! The added extras in the box are a lovely touch. The wax is made of soy and is vegan and cruelty free. The packaging for the melts is all recyclable.
One segment is used at a time. I tried Ice Cream flavour which was warm and rich, a creamy vanilla (I actually thought it reminded me of baking shortbread). The wax melts and the glimmer nature of the liquid was hypnotic as it swirled like shifting sands.
The other flavours in the set were RockPool, Salted Fudge and SeaBreeze. This month's Beach subscription also had bath salts. So for a perfect relaxing pamper session at home a hot bath and relaxing scents is perfect!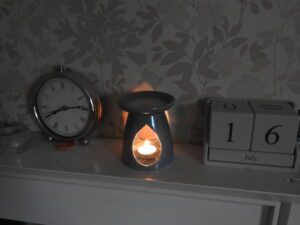 The gorgeous scent permeated the whole house and was really lovely. It also masked the revolting smoke smell for our horrible neighbours. Each segment lasts for hours, usually 16-24 hours!
Teddy Eva Scents is offering a fab 10% discount code for my lovely readers so pop over and enter LOOPY10 at the checkout. The wax melt subscription box is available for £14.99 per box but there are also clamshells with 6 segments and Teddy melt bags if you require a perticular scent.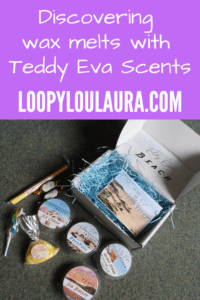 *I received this box of treats in exchange for this post. All opinions are my own.