In the midst of winter, I am thinking ahead to the glory of summer. Fun on the beach, appreciating the beauty of the shoreline. I have mentioned a couple of times that my focus for next year will be on becoming more eco friendly and enjoying the wonders of our planet.
Chris was brought up by the sea so I don't think it holds quite the same wonder that it does for me and the children. My cousin recently moved to the coast and I am very jealous of her IG feed and stories (check out @jo_prado).
One of her friends has a gorgeous website full of nautical products for your home and self. Sand and Seagulls has a broad range of jewellery, fashion accessories and home decorations.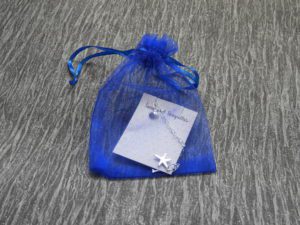 I was immediately drawn to the Hengistbury charm bracelet for a number of reasons. Chris bought me a charm for our first Christmas together and 5 years on I still didn't have a bracelet to put it on! The name Hengistbury is special as we have had several visits to Mudeford to stay in the family flat and each trip has involved the ferry over to Hengistbury Head.
The final reason is that Zoe, the owner of Sand and Seagulls, is donating 10% to the Alzheimer's Society for each bracelet purchased. Although I was offered an item for the purpose of this review, I decided to purchase the Hengistbury bracelet so that the donation could be made on my behalf.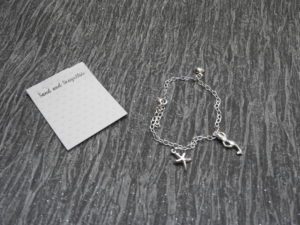 The bracelet and charms are sterling silver and the sparkle of the sea is clearly evoked in the choice of charm design. Zoe surprised me with shell, starfish and mermaid charms. The bracelet is so delicate and beautiful, very feminine and suits my taste in jewellery perfectly.

I absolutely LOVE them and what they represent to me personally. Every time we visit my mum in law and go to the beach I choose a shell to keep. Starfish represent the wonder of nature and the beauty of our seas which we need to protect, hence my decison to work on becoming a more eco-friendly household. The mermaid evokes the mythology and mysterious beauty of the ocean which has captivated us 'landlubbers' for centuries.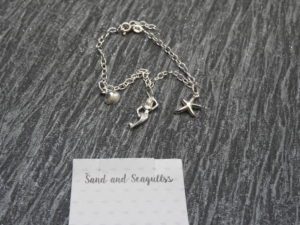 Can you believe that the oceans cover 71% of the Earth? We need to protect the water and life in our seas for the good of our planet and our species' survival. I will wear my bracelet as a reminder to myself of the beauty and mystery of the Earth's waters, and of my own commitment to make a difference.
The Hengistbury bracelet is available for £10 which includes the donation to the Alzheimer's Society. The charms are available for between £4 and £6 each.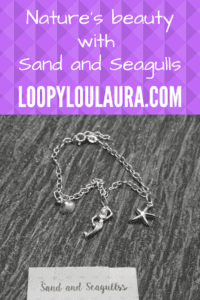 *I purchased the bracelet but was sent the charms additionally. Alll opinions are my own.