Now if I say this is the most revolting, grotesque thing I have ever been sent to review, then you could be excused for avoiding it…But don't! On this occasion it is actually intentional!
I was sent a Scary Peeper to try out in advance of Halloween and it would also be fun for practical jokes (but only if your victim doesn't have a nervous disposition!!!) You get a bit of a shock when you first open the box: think of the end of the film Seven…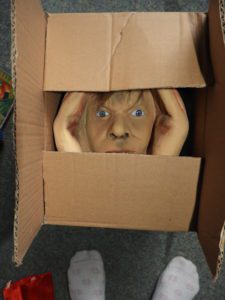 The item comes with a suction cup to attach to the window, transparent to make it less obvious and more lifelike. We set this up while the kids were upstairs and they got a shock when they saw it!
I am planning to put it in the front window for Halloween so that trick or treaters can see it as they approach the house. I'm thinking I might get some lights for the window to make him stand out after dark.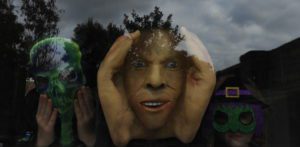 The children keep asking for it to be put up even though they were quite freaked out by it to begin with! Chris described this as the best thing I've received and he hopes to take it to his work for fun when Halloween is over.
You have your own chance to win this Scary Peeper, enter the competition below
Win the Peeping Tom Halloween Prop #7
If you can't wait for the competition to close then you can buy your own on Amazon right now: