Now you may know that I am a teeny little bit of a

Star Wars

fan. So is Chris. So are my parents. So are my kids.
I became the most popular person in my house when Maplin delivered a Star Wars X Wing drone just before Christmas. EVERYONE was majorly excited!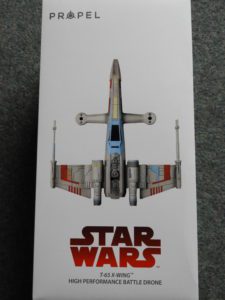 I am not an overly techy person so had no idea about drones but from my experience of the X Wing over the last week I am a convert!
Everything is clearly and separately boxed which makes life easier than trying to identify parts.

There is enough power in the drone for Yoda to tell you to insert 4 batteries! What a brilliant start! The kids were jumping up and down in anticipation and I was trying to control my squeals of geekiness.
(Does the controller remind anyone else of a porg from Episode 8?)
I decided to let Chris take the lead on learning to fly the drone. One of our foil decorations will never forgive me as it was quickly eviscerated!
The next day we decided to go to the local park to try out the drone properly. As you can see from the video we are still not worthy of Luke Skywalker but the fun was incredible.
There was one problem that we found: the instructions were a little confusing and one was completely wrong so Google helped us to find the online manual which had the correct information! The music was excellent to start with but then became a little distracting: thankfully it can be switched off to aid concentration.
The X Wing drone was huge fun (the word 'awesome' was used a lot!). It can go over 20mph, do stunts (I screamed with surprise when it spun around unexpectedly) and has the capability to fly against other Star Wars drones. There is a connector for your smartphone and you can programme the flight.
To see the huge range of drones available at Maplin, take a look here.
May the force be with you!
*I was sent the drone for the purpose of this review. All opinions, photos and video are my own.