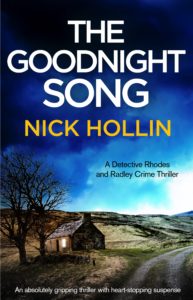 My review:
Nathan and Katie are hiding. From the world, but also keeping their feelings hidden from each other. They have been through a tough time together after Nathan's twin brother was revealed as a vicious murderer before attacking Katie and then being killed.
Suddenly, it is revealed via a blog that Cameron's crimes were based on murders that Nathan had described in a teenage journal and one of their former colleagues is murdered and they become the main suuspects.
Nathan and Katie return to their previous lives to try to find the real killer but can they trust their police colleagues, friends or even each other…?
This book was enjoyable but, be warned, there are grisly passages which have the capacity to shock, particularly the description of the murder right at the start.
The main characters are likeable: you want them to resolve their problems and move on with their relationship.
There are many references to events that took place in the past so I had a feeling that I was missing part of the story by not experiencing it with the characters. This is the second in the series so I wish I'd read the first book before this one but there was enough information to make the plot, narrative and character motivation easy to understand.
Will I be reading more from this author? YES!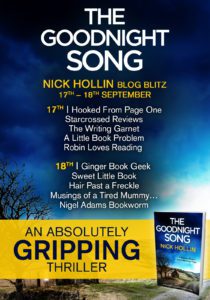 Blog Blitz Media Kit:
Title: The Goodnight Song
Author: Nick Hollin
Publication Date: SEPT 17th
Buy Links:
Amazon: mybook.to/TGSCover
iBookstore: https://tinyurl.com/y7587gwx
Kobo: https://tinyurl.com/y8lqw4e2
Googleplay: https://tinyurl.com/y9vp3est
Description:
What would you do if someone used your deepest secrets to commit the darkest crimes?
When the cold, lifeless body of a policeman is pulled from the Thames in the early hours of the morning, it appears at first glance to be a terrible accident.
But when old diary pages predicting the exact details of the crime start appearing online, ex-criminal psychologist and owner of the diary, Nathan Radley, becomes the number one suspect in the most terrifying murder investigation the London police has ever seen.
Nathan's partner, Detective Katie Rhodes knows that he is innocent, because she was with him the night of the attack. But as more extracts are posted, and more bodies begin to surface, how much longer can she ignore the connection?
The trail leads Katie from one dead end to another, until a tiny clue buried deep within the pages leads them to a new suspect; someone dangerous, someone close, someone they trusted…
A nail-biting and unputdownable thriller that fans of Angela Marsons, Rachel Abbott and Peter James will adore.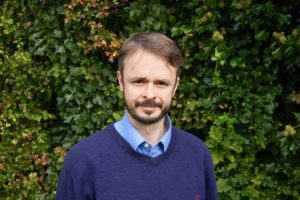 Author Bio:
From bookbinder to gardener to forensic analyst, Nick has enjoyed an extremely varied working life. At home his interests are equally diverse, but nothing beats books. Collecting, reading, writing, they have always been a passion in one form or another. A graduate of Royal Holloway's Creative Writing Masters, he's fulfilling a long-held dream of being published and hopes to be at this for a good while yet. He lives in Cambridgeshire with his partner, young son and cat.
Author Social Media Links:
Twitter: https://twitter.com/vonmaraus