Before starting my review, I have to note a trigger warning: this book deals with the death of a child and internet grooming.
Oh my goodness, what a book! I was completely hooked right from the start. Zoe and Jake have had to face the unimaginable pain of losing their 14 year old son Ethan in a river accident alongside his best friend Josh. They are trying to hold the family together for the sake of their older son Harley who is taking his A levels and wants to be a doctor.
But then Zoe receives an email which suggests Ethan's death was not an accident. Jake wants to ignore the message as a sick joke but Zoe is determined to find the truth. She is certain that Josh's family are hiding something and Ethan's friends are keeping secrets but can she persuade them to tell her the truth?
There is another narrative strand throughout the book which doesn't link up to the rest of the plot until the end and really keeps the reader guessing about the connection. A child is being contacted online by someone claiming to be a teenage girl but is actually someone much older. It is uncomfortable reading but it well written.
Book information:
The Warning by Kathryn Croft
Amazon: http://geni.us/B07FLLD8T9Social
iBooks: http://ow.ly/pp8B30m8PTm
Kobo: http://ow.ly/4dPs30m8PXU
Googleplay: http://ow.ly/SznD30m8Q0Y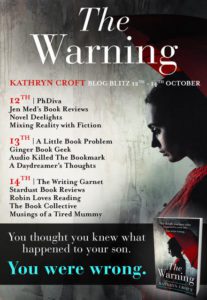 My little boy's room was empty, his bed neatly made. Alarm bells should have rung immediately. Then the knock on the door came. All I remember is a thick fog wrapping itself tightly around me. This couldn't be happening to us.
Three years ago, nurse Zoe's son Ethan was found drowned in a muddy river by their home, along with his best friend Josh. With no witnesses, their deaths were ruled a tragic accident.
Heartbroken, Zoe and her family, move away from her home. They're just beginning to get back to some kind of normality, when, out of the blue, Zoe receives an anonymous email:
You need to find out the truth about what happened to your son. Don't let this rest. Don't believe the lie.
Shaken, Zoe starts an obsessive hunt for the truth. But why is her husband so reluctant to help?
And why is Josh's mother so determined not to believe her?
An absolutely unputdownable psychological thriller about a mother's desperate search for the truth. Fans of The Girl on the Train, and Gone Girl will be hooked from the very first page.
About the author:
Kathryn Croft is the bestselling author of six psychological thrillers, and to date has sold over one million copies of her books. The Girl With No Past spent over four weeks at number one in the Amazon UK chart and her other novels, Behind Closed Doors, The Stranger Within and The Girl You Lost all reached number one in the psychological thriller charts.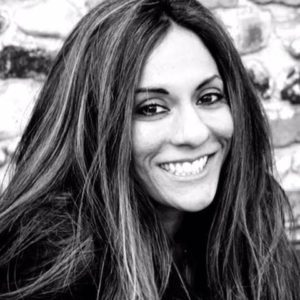 Her seventh psychological thriller is due to be released in October 2018.
After six years teaching secondary school English, Kathryn now writes full time and lives in Guildford, Surrey with her husband and young family.
Having always been an avid reader, Kathryn believes in the power of words to entertain, teach and transform lives. She is also a firm believer in following your dreams and says anything is possible if you work hard enough and never give up!
www.kathryncroft.com
https://www.facebook.com/authorkathryncroft/
https://twitter.com/KatCroft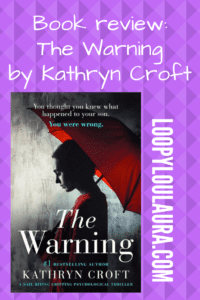 [amazon_link asins='B07FLLD8T9,1786812843,B019D70QIQ' template='ProductCarousel' store='tiredmummyblog-21′ marketplace='UK' link_id='0bbddf72-cf31-11e8-a180-ab3795081a6d']