Matthew's school was lucky enough to be visited by award winning author Ali Sparkes who gave the children an inspirational talk that had Matthew completely enthused about writing.
After school we went along to the book signing, and wow, I think every child in the school went along to buy copies of Ali's books and get them signed.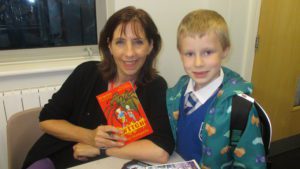 Matthew chose a copy of her latest book Thunderstruck and I chose a book aimed at younger readers for Anya.
'Thunderstruck' introduces us to Alisha and Theo who are struck by lightning! Luckily they survive but they start seeing ghosts. The two main ghost characters they meet are Lizzie and Doug who were also struck by lightning back in the 1970s.
Soon, the two main characters see other ghosts too and they seem to be trying to warn them of something…
I was a little concerned about the topic of ghosts being tackled in this book as Matthew is very sensitive and also a little younger than the target audience of the book. However, he had no problem with the subject matter and loved the book from beginning to end!
There were moments of laughter (Matthew and Anya particularly enjoyed the fainting scenes and Lizzie's 1970s singing and dancing) to combat the spooky nature of the plot.
My love of history was also covered in this book and it made the children want to know more about the events described in the book (which I won't spoil!)
The ending was very touching involving Dougie's family. I won't give away any more detail but if you do want a (slightly obscure) clue then click

here

.
I absolutely loved this book and so did Matthew and Anya. We are now going to start on Anya's book aimed at a younger readership and I think Matthew will get more of Ali's books for Christmas.
I have a copy of Ali's Thunderstruck as a signed audiobook to give away to one lucky UK winner. Good luck!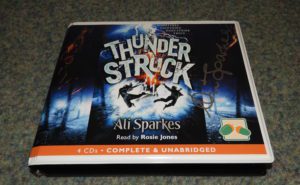 Win a signed copy of 'Thunderstruck' by Ali Sparkes audiobook

*I contacted Ali when I heard about her visit and she kindly donated the book for Matthew and the audiobook prize. The second book was purchased with my own money. All word and photos are my own.