Day 278: classic Sunday night activity in our house: sword fighting practice!
Day 279: first sausage roll I've had in years, these are vegan and gluten free, made by me!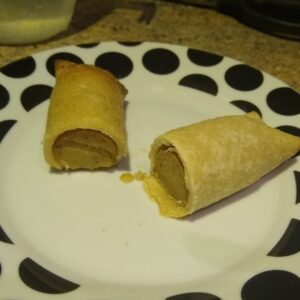 Day 280: clouds are gathering but a dry school run
Day 281: survived a downpour but then the sky lit up with this rainbow and the kids (and me) were thrilled)
Day 282: having fun with role play games with the Casdon kitchen set
Day 283: congratulations to Anya! Proud Mum 🙂
Day 284: ooh it felt good to get out for a run, that's the moon behind me
You are invited to the Inlinkz link party!