My children absolutely adore role play games so I was thrilled to be able to share with them this Casdon Morphy Richards kitchen set.
The focus is on breakfast with a coffee percolator, kettle, toaster, cutlery, crockery and play food. There are stickers to apply and I would recommend that an adult place them. I thought that the detail in the toys was superb.
Zach got straight to work makig me a coffee! Kids pay attention more than we give them credit for!
Next up was the toaster and considering we don't own a real one, Zach picked up the concept straight away and loved how the toast pops up!
Zach has never touched an egg in real life but loved pretending to eat this one! Anya joined him and they had a really lovely game together.
The Casdon Morphy Richards kitchen set is aimed at children aged 3 and older. Zach is 4 and loved it but so did Anya who is 8. The set retails for £17 and is available from many retailers including Selfridges.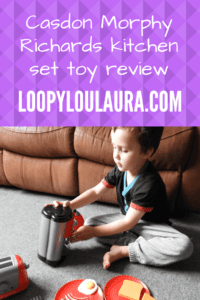 *We were sent this toy for the purpose of this review. All opinions are my own.