A topsy-turvy week. Old things that they had rejected were eaten! Plus some firm favourites were included as I was a bit downhearted after the failures of

last week

🙁
The food I was most happy about this week was their acceptance and even enjoyment of the chicken korma. It was the first time I'd ever made it and they wolfed it down! Quiche and steak pie got a big thumbs up despite previous revulsion!
Day 8: Quiche Lorraine, flat bread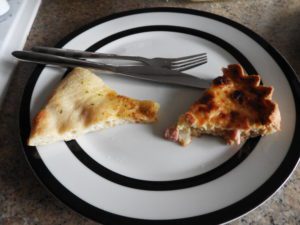 Day 9: beef burger and pot noodle (don't judge me!)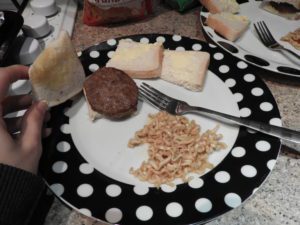 Day 10: mmm Chinese takeaway! Chicken balls, mushroom fried rice and chips.
Day 11: cheat alert! The kids went to Mum and Dad's for a roast and fruit cobbler, no pics as we were at a wedding fair!
Day 12: sausage stew with rice, deconstructed lemon meringue
Day 13: chicken korma with rice and naan, Mummy's mess (like Eton Mess but involves Angel Delight!)
Day 14: steak pie, mash and sweetcorn, cake!