My mum is the queen of cheese sauces and her cauliflower cheese is one of my favourite thing in the world. Making it wheat free was easy enough but using vegan cheese is very different. My issue is with the texture of the topping not the consistency of the sauce 🙂 Not perfect but definitely great as a side dish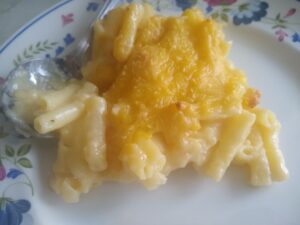 Vegan cheese sauce ingredients
2oz plant based spread
2oz plain flour
500ml plant milk
2oz vegan coconut based cheese, grated
salt and pepper to taste (and I add a pinch of cayenne)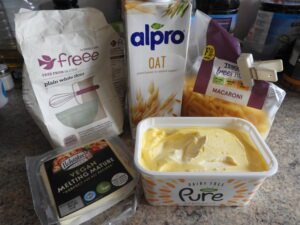 Instructions
Melt the spread in a saucepan. When fully melted, add the flour and stir to combine.
Remove from the heat and gradually add the milk, about 50ml at a time to begin with. Try to break up any lumps in your vegan cheese sauce!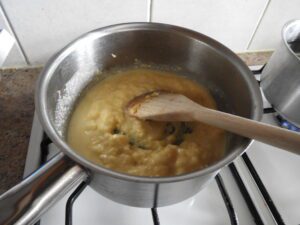 When all the milk has been added, return the pan to the heat and stir continuously until it boils.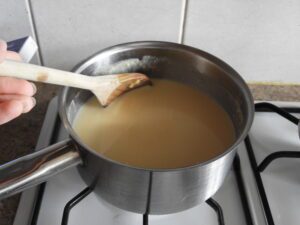 Simmer for 1 minute continuing to stir.
Remove from heat and stir in the grated cheese until combined. Add seasoning to taste.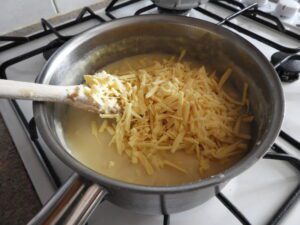 This recipe for vegan cheese sauce makes enough for one large dish of cauliflower or macaroni cheese to serve 4 people. However, I would advise using it for side dishes.

Top with another 2 oz of cheese and bake for 15-20 minutes until golden. I used my sauce for two side dishes, one using macaroni and the other cauliflower and broccoli.
I have yet to find a vegan cheese that melts convincingly on top of a dish without going slightly claggy which is why I would recommend this recipe for vegan cheese sauce as a side dish rather than a main dish.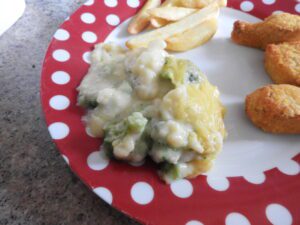 Do you have any favourite recipes that need a cheese sauce? Let me know in the comments below or tell me if you give this recipe a try!