The weather is turning colder so soup season is almost here! I had some celery left over so created a vegetable soup with pasta, using other forgotten veg too! Of course you could use your favourite veg too 🙂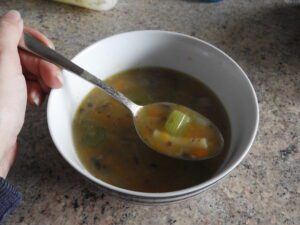 Ingredients for 3 servings of vegetable soup with pasta
1 tablespoon oil
1 onion
3 sticks celery
1 carrot
2 potatoes
2 mushrooms
750ml stock
seasoning or herbs
75g pasta
Heat a tablespoon of oil in a pan and fry the onion, celery and mushrooms for 5 minutes.
Add the carrot and potatoes and fry for a further 2 minutes.
Pour in the stock and season to taste.
Bring to the boil then allow to simmer for 10 minutes until the vegetables are soft.
Use a stick blender to give the desired consistency (I wanted some lumps to remain)
Add the past and simmer for a further 10 minutes until cooked.