Everyone loves Baby Shark! Last week at Anya's sports day the entire school and parents did it twice!
My kids were thrilled to be sent 2 toys, both aimed at younger children (2+ and 4+) but suitable for older ones too! The puzzle pieces are chunky and easy to fit into the spaces in the board. Zach is only 3 but coped well with the 'Let's Go Hunt' game, understanding the rules but finding the fine motor skills of catching the fish a little tricky.

Both games play the Baby Shark song: batteries are required for both games but not included.
Zach is obviously more intelligent than me because he understood straightaway that the puzzle piece characters caused that part of the song to play. He then went about fitting them in the right order to make the song correctly play in sequence. The characters are easily recognisable from the now classic Pinkfong video so Zach was able to play with the fish pieces as a family too!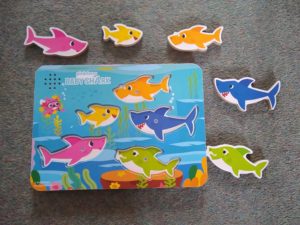 Zach had great fun with Matthew and Anya playing the Let's Go Hunt game. The only problem I could find with the game was the competitive streak it brought out in the kids! We had to have knock out tournaments and everything! It was lovely to see them playing so nicely together and this will definitely be coming away with us on holiday to keep them entertained!
Baby Shark is just so fun and all ages can join in with the singing, dancing and actions. These two toys have cleverly used the music to enhance the play and engage both big and little children.
One lucky winner can win their very own Baby Shark wooden sound puzzle (suitable for ages 2+). Enter via the widget below, and good luck!
Baby Shark wooden sound puzzle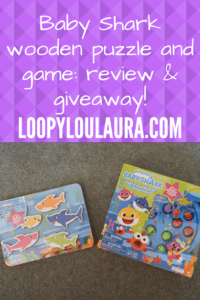 *We received these toys for the purpose of this review