Bellies Babies are the new doll on the block and arrived on the shelves in the last few days! We were thrilled to be given the chance to get one in advance: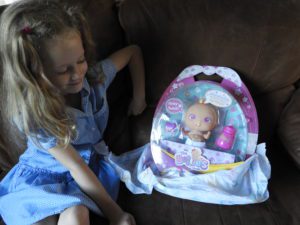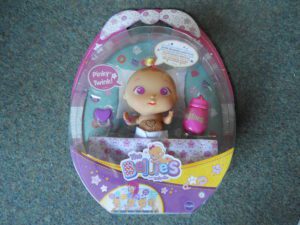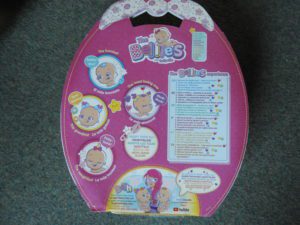 There are 4 babies available and we received Pinky Twink who apparently is the naughty one (should fit right in with my 3 then!)
The first surprise is that when you remove the Bellies doll from the packaging you remove the umbilical cord and the heart starts beating!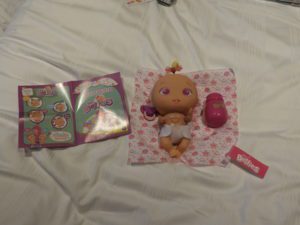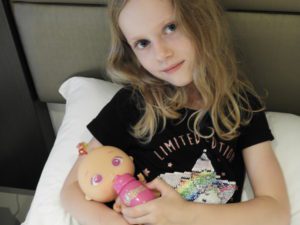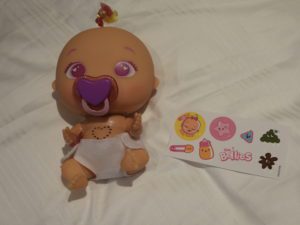 At this point the Bellies babies also start to babble in their own cute language (there is an on-off button to conserve battery power if needed)
Inside the nappy are 2 surprises: a birthmark and a poo!

The Poopypedia leaflet that accompanies the Bellies babies contains information about what the poo mean. Anya's was happy and healthy, phew! A sticker sheet included with the toy has alternative poos that can be put in the nappy to get a different result.
The set also comes with a dummy and bottle so that you can look after you newborn Bellies baby and attend to their needs. The dummy is magnetised and so is the doll's mouth. There is a blanket so you can wrap your baby up like a newborn.
I am informed that the Bellies can interact with each other, making more play opportunities! The manufacturers say there will be an emergency kit available to buy which will help you make poorly dolls better (once the poo has been diagnosed!)
A new YouTube channel for the Bellies Babies was launched in the UK on 13th July: I'm off to have a watch!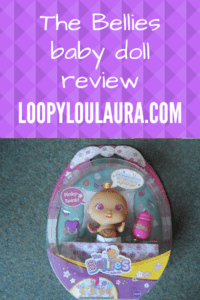 *We received this doll for the purpose of this review.