*We were gifted these items for the purpose of this review
Anya is obsessed with fashion, hair and makeup so was absolutely delighted to be sent the Hollywood Hair Extension Maker and Go Glam Nail Salon.
We began with the Extension Maker. The set contains plain and patterned ribbons, fabric pens, a foam roller, water spray bottle, hair clips, storage hangers and the extension maker. The machine requires 2 AA batteries that are not included.
The fabric pens allow you to create your own designs. To make the extension, simply place the spool into the machine and press the button.
Once the extension has finished, switch off the machine and remove. The extension can then be styled using the foam roller and water spray.
The Nail Salon set contains a machine for stamping and drying nails, 2 nail polishes and a top coat. The machine requires 4 AAA batteries that are not included.
The salon can be used on fingernails or toenails. The first step is to choose the colour: Anya chose pink! She then used the dryer for 5 minutes to set the colour.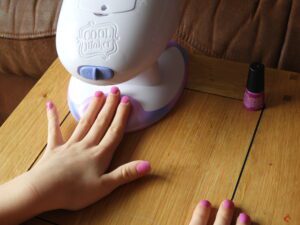 Next she has the tricky decision about the stamp pattern, she wanted them all! She simply inserted the pod into the machine and pressed the button and it stamped evenly on each finger in turn.
Apart from the insertion of batteries, both the Hollywood Hair Extension Maker and Go Glam Nail Salon require little adult supervision. This allows children to feel very grown up and in control.
Anya loved the opportunities that both sets gave her to be creative and I liked that she was able to use them independently.
The Hollywood Hair Extension Maker set has an RRP of £25 and the Go Glam Nail Salon retails for £20. Both sets are aimed at children aged 8 years and over.