*We were sent this game for the purpose of this review
Farplace The Game is a card based board game based on the Farplace Animal Rescue which rehomes and cares for a variety of animals.
There are four different animal pieces (beautifully designed) and each one moves around the board in a different animal related way. The board is double sided so you can add variety to the set up. The illustrations of the animals on the cards are very cute.
The game is quick to set up but we found the instructions a little confusing until we were properly underway with the game. The pieces have specific movement instructions but the moves depend on the card selection and the resultant number on the animal card once the object/action cards have been played. Once the needs of the animal have been fulfilled, you can rehome them and move forward.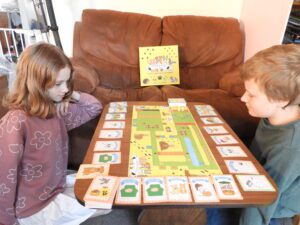 I love the theme and background to this game. I hope that it raises awareness of the responsibility of pet ownership and also the efforts that rehoming centres go to to protect animals. This information is provided on the cards so will be absorbed through play, for example, worming, neutering, vet check.
The game is aimed at children aged 8+ but I think it is better suited to 10+ due to the complicated rules. You can purchase the game for £25 plus p&p via the Farplace website.