I'm sure that many other mums with girls have unicorns dotted all around the house. I don't remember them being soooo popular when I was a child but now they definitely are!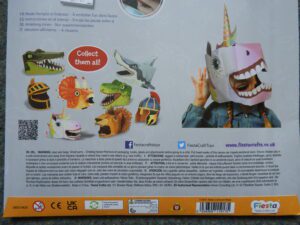 Anya adores unicorns so I was excited to receive this Fiesta card craft kit to review. There are several different kits available (I would love to get Matthew the dino head!)
No extra equipment is required to make this kit. The pieces simply slot together so no glue or scissors are needed. Tabs and slots are numbered for ease of assembly.
The instructions are clear and functional. It took a few attempts to get the tabs fitted properly through the slots but we soon got the hang of it!
The unicorn head is comprised of two main parts and fitting them together was quite tricky so I did it as I didn't want Anya to get frustrated. I don't think the card would have ripped but some of the angles needed a delicate touch to fit together.
We all had a go at trying the unicorn head on! I did have to take my glasses off to get it on but my head wasn't too big to fit inside comfortably.
The Fiesta card craft kit unicorn head is aimed at children aged 5 and above. I would advise parental assistance as some of the assembly is a little tricky. The card feels very sturdy and I think it will last plenty of play.
*I was sent this kit for the purpose of this review. All opinons and photos are my own.