New toy on the block! Hatchimals Pixies Vacay Style combining Hatchimals surprise fun, stunning style and a travel theme.
The Hatchimals Pixies are getting set to go on vacation and travel the world!
This is a surprise toy so you have no idea which Pixie you will get. There are two carry on cases which break open in a similar way to normal Hatchimal eggs and contain accessories for your doll. There are also bright stickers to use to decorate the luggage or use elsewhere. The Pixie is hiding inside the large suitcase.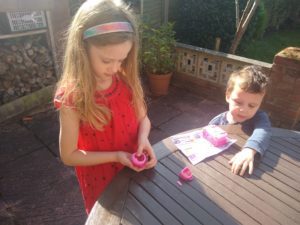 This is the Pink Passport series which features 5 different Pixies: Meadow Maddie, Lilac Lacey, Glittering Gracie, Wishing Willow and the one that we got, Sunshine Sara. Each Pixie comes with accessories that match their ideal vacation, in our case (pun intended!), surfing.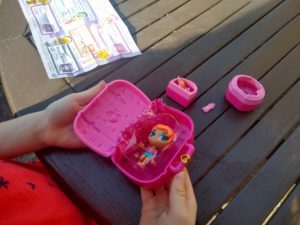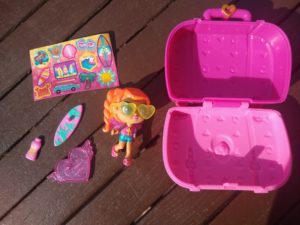 This was the first time we had seen a Hatchimal Pixie and she was soooo cute with glitter hair and rubbery wings that flutter (or wobble). A heart shaped stand is included but I think our Sunshine Sara will spend more of her time on her surfboard!
One in ten Pixies also have a stowaway pet but sadly we were not one of the lucky finders 🙁
A Purple Passport series is due for release soon, visiting US cities (I'm looking forward to expanding my geographical knowledge!)
The Hatchimals Pixies Vacay Style toys are aimed at children aged 5 and over. Each pack has an RRP of £8.99 and they are available online and in store.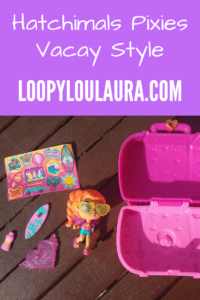 *We received this toy for the purpose of this review. All opinionns and photos are my own