*We received this item for the purpose of this review. All opinions and photos are my own.
So, you know bubble wrap? And how kids go mad for it? The new toy on the market replicates the satisfying pop sensation!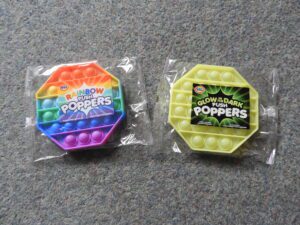 Strangely addictive, Push Poppers from HGL come in a range of shapes and colours. We were sent two octagonal ones in rainbow colours and a bright yellow green that glows in the dark.
My children were immediately drawn to the rainbow coloured version. The popper is a reasonable size (see my hand in comparison) and each bubble is easy to press backwards and forwards.

I headed into the dark of our garage to test out the glow in the dark version we were sent. Photo isn't that good but the glow in the dark feature worked great! I think this could be used to keep children in bed a little longer on dark mornings (fingers crossed!)

Push Poppers work as a fidget toy, a sensory distraction and a competition! Who can push all of the bubbles first?! Do you push one at a time or several at once? Can you push with all fingers at the same time?

The silicone is smooth and the toy is suitable for ages 3 and over. I think Push Poppers would appeal to children and adults (they are definitely useful as a stress toy!)
Since opening them a week ago, the children have naturally gravitated to them several times a day. The popping noise isn't too loud so keeps hands busy while watching television or could be popped in rhythm to some music.
Push Poppers are available from Claires, Smyths, Toymaster and other online and high street stores.