*We were sent these dolls for the purpose of this review. All photos and opinions are my own
We are hoping to get a puppy over the summer so Anya was thrilled to find out that Steffi Love dolls have two new dog themed options!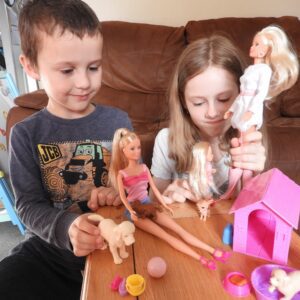 Firstly we had the Chic Walk set with Steffi wearing a gorgeous sparkly white outfit to walk her pet chihuahua. She is wearing long boots which are flat but her feet are shaped so they could fit heels.
The doll doesn't appear to have too much make up but has big statement earrings which Anya loved. All accessories are pale pink.
Next we had the larger Happy Animal set which included Steffi and her younger sister Evi as well as a mummy dog and two puppies. There are loads of accesssories for feeding and grooming the dogs but my favourite element was the kennel.
Anya commented on how soft the hair of the dolls is and she liked the different hairstyles that the dolls come with. The two sister dolls are colour coordinated in their pink and blue outfits.
The arms and legs move which make the dolls easy to pose and Anya found that the Evi doll could stand on her own. The dolls are easy to dress and have flesh coloured pants designed as part of their body.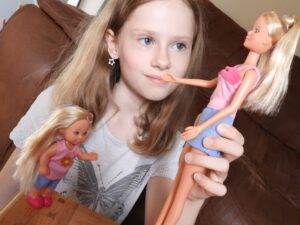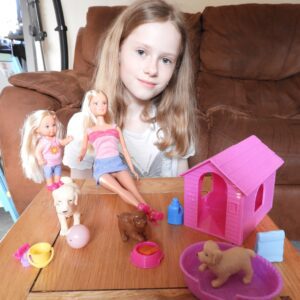 Steffi Love dolls are available online and instore at Hamleys, online at Amazon and instore at Sainsburys. There are a whole host of different themes available and Steffi has many friends and styles to appeal to all.