Hands up who has staring competitions with their kids… Hope it isn't just me!
Stare Off takes the game to a new level with rules and extra distractions to make it much more fun and interactive than usual.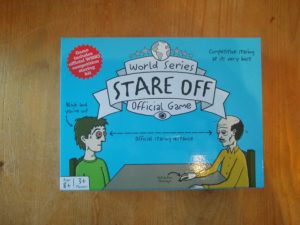 The games consists of two headbands with are linked together by a pole that gets shorter after you complete a round. A card is placed halfway along the pole and removed when the game begins. Each player has a distraction card to use strategically when they want to break their opponent and surprise them into blinking.

The children liked playing the game so Chris and I had a turn as well! The rules are simple and quick to understand. The headband fits an adult head and we also put it on Zach as he was desperate to join in.
My only dislike was the use of the word 'sexy' on one of the distraction cards: the game is aimed at players aged 8 and over but I removed that card as I did not feel it was appropriate (Anya is only 7 and wouldn't have understood it but Matthew at 9 might have felt awkward and a bit embarrassed).
Stare Off is available to buy from Amazon via Ideal Games and John Adams.

*We were sent this game for the purpose of this review. All opinions are my own.