My kids adore surprise toys so for Zach's birthday I chose the latest Zuru Smashers Dino Ice Age surprise egg from Zuru. I have reviewed some of their products before but this one was purchased by me. Look at the birthday boy's smile!
Although this Zuru Smashers egg is described as mini, it is quite big! I love the detail of the hand 'escaping' from the outer shell. Inside the egg is a 'yolk sac', collectors guide and instructions for assembly of the main creature. The guide shows that there are common and rare creatures to collect and I think the theme will appeal to children (who doesn't like dinos and prehistory?!)
Inside the main packet is a sticker, mini Smasher egg and three types of slime. The mini Smasher contains 1 figure and the egg can be reconstructed after smashing so you can smash repeatedly (reassembly is tricky though! But that could be my coordination…)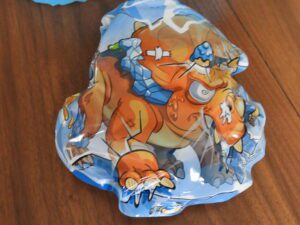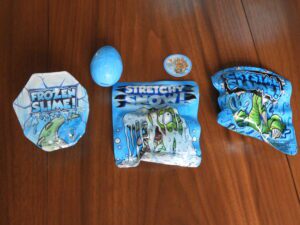 The possibility for interactive play is huge and, even though it was Zach's birthday present, he was more than happy to share the slime fun with Matthew and Anya. Each slime was different in colour and texture, and contained different pieces of the main toy to assemble. I popped each slime into a small lidded pot to preserve it for as long as possible after opening.
There are 6 different characters to collect and I'd opted for the sabre tooth tiger. If you buy more than one then you can mix and match pieces to create your own prehistoric creature! (Looking on Amazon today 5 of the 6 characters are available to order).
On Amazon, the Zuru Smashers Dino Ice Age eggs have an RRP of £10 but the actual prices for the different creatures vary. There are also big egg surprises available with an RRP of £25.