Veganism really does seem to be coming naturally to me now! I've been trying out new bakes so have more snacking opportunities, yay!
I got my curry fix on day 21 with bombay potato. So many supermarkets have vegan side dishes available but the cooking of the potato can be a bit hit and miss but this one was deliciious!

Dinner was garlic mushrooms in melted vegan cream cheese sauce on toast and Ilumi rice noodles.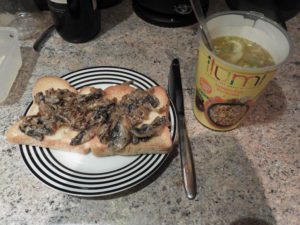 I felt completely stuffed but had experimented with my

jam sponge

recipe, using a flax egg and serving with vegan squirty cream. Matthew descibed the jam sponge as the best cake ever, woohoo! Go flax eggs!
Day 22's lunch was a packed lunch for my

school trip

with Anya to Windsor Castle. Finding bread that is wheat free and vegan has been quite a challenge but there is one in Tesco. Dinner was the amazing fake chicken nuggets from M&S with pasta and ratatouille, perfect comfort food when it is snowing outside!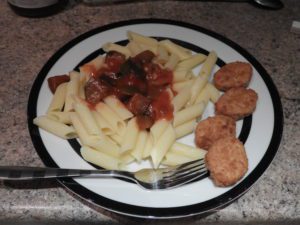 The vegan ham and cheese needed using up so I finished it along with some Naked Rice.

Tea was a tofu stir fry. Chris had bought some marinaded tofu from Lidl and it was so delicious that it didn't require any extra sauce.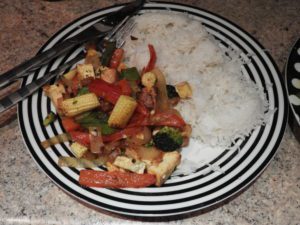 A new pot noodle meal from Itsu and this tasted sooooo good.

Dinner was a pasta bake with chopped up vegan chorizo sausage. The vegan mozzarella melted nicely and complemented the spicy sausage flavour.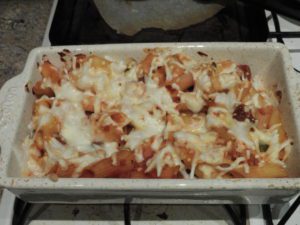 Still trying to make my favourite meals and experiment with different cheeses so this time it was the turn of nachos. Not too bad… Leftover chorizo with chilli beans and rice.
So this 5 days was about continuing my mission to find cheese alternatives, revisiting favourite bakes and exploring the range of vegan products available in supermarkets. Success!