One of the out and out successes of my

February Food Challenge

was the jam sponge pudding. My mum makes this regularly but I hadn't tried it before this year. It is so quick and easy, oh and tasty too!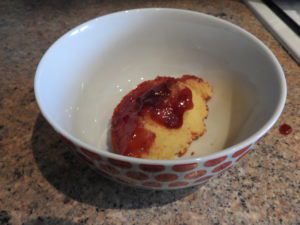 The recipe below is the perfect size for the 5 of us to have a small slice but it is easy to double for hungrier appetites. It can also be turned out and served cold as a cake which is perfect for leftovers. I also make this with golden syrup at the bottom, yum!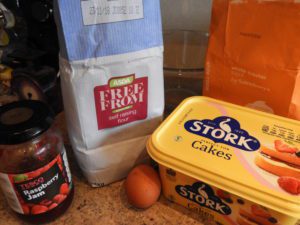 Ingredients
2oz caster sugar
2oz butter or soft margarine
1 egg
2 oz self raising flour
2-3 tablespoons jam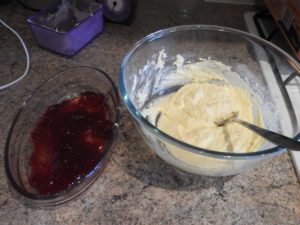 Method
Whisk together the sugar, butter and egg for 2-3 minutes.
Fold in the flour.
Spoon the jam into the dish and spread (if this is too tricky then microwave for 20 seconds so it goes runny and spreads by itself but be careful: it will get hot!)
Pour the cake batter on top and bake at GM 5 for 15-20 minutes.
Leave to cool for a few minutes, the jam will be VERY HOT!