Last weekend, we enjoyed a day trip to Brighton to support my vegan lifestyle. We began with a trip to

Vegan Foodilic

and then headed to VegfestUK.
I'll be honest I was slightly unsure what to expect as I have never been to an event like this before. On the car journey, I was a little concerned about bringing the children along as some vegans are quite militant and there could have been graphic displays of animal cruelty.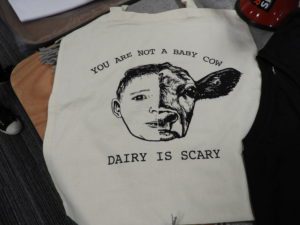 I was relieved and delighted to see that the majority of the exhibition focused on the personal and global positives of a vegan lifestyle. The variety was brilliant for educating about the possibilities for an animal friendly future.
There were so many food stalls and the samples were delicious. We have found a host of new products to look out for instore and online! The children honestly couldn't believe that there were no animal products in any of the wonderful things they tried.
A real highlight was chatting to the stall holders and comparing notes on our vegan journeys, and I received lots of encouragement for my next focus on sustainability and a single use plastic free life.
I did speak to one activist group and loved their passion for animals, mankind and our planet. Personally, I would not take part in any activism but am mindful of the awareness these groups raise.
After the event, I was hugely relieved that we weren't exposed to the idiot outside who was eating a raw pig's head in protest at veganism. His disrespectful actions actually had the opposite effect to what he intended and has put some meat eaters off meat!
Overall, the whole visit to VegfestUK was inspirational for our everyone in our family; giving me fresh ideas and normalising veganism for the children.
*I received complimentary tickets for the purpose of this post