I had planned to postpone Wedding Wednesday posts this month due to taking part in Blogtober, but today's prompt matches up quite nicely so I've decided to combine the two!
This year Chris upgraded from boyfriend to husband, hurrah!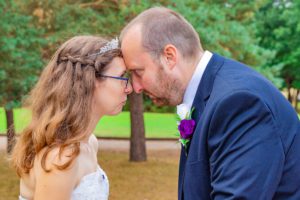 Below is part of the speech I gave at our wedding:
I want to tell you a story with a happy ending. 4 years ago I was feeling very glum and my little boy asked why I was sad. I replied that I'd given up on finding love. Matthew frowned at me and said 'you don't let me give up on things'. Very true so I decided to join a dating website despite my inner cringing!
A fortnight later on the 9th of August a shy smile radiated from a computer screen and I took a chance and answered a random questionnaire Chris had put on the website. I don't remember the questions or what answers I gave but they were obviously ok enough for him to write what he describes as a spontaneous reply 24 looooong hours later. We finally met up on the 17th August and the rest is history.

Today I am unbelievably proud to stand beside my husband and tell the world what an incredible person he is and how much I love him. He has changed my life in so many ways and made me happier than I ever imagined possible. This is a day that Chris and I never thought would happened and I'm sure our parents never expected it either. We made vows to each other privately 3 years ago which were just as sacrosanct as those we have made today but we wanted to share our celebration with family.
Now it's time to make him squirm with embarrassment. Why do I love him?
We have the same sense of humour and make each other laugh. We are both geeks and are passionate about the things we love. We have taught each other new things: on the night we met Chris did a double take, I assume in a good way based on what's going on today! From me he has discovered that teeth really do chatter when a person is cold.
We are best friends, we are soul mates. His is the face I wanted to wake up to every morning, his is the hand I want to hold when I feel lost. His is the smile I want to brighten. His is the body I want to snuggle up to during a morning lie in (if we ever get one, eh kids?!) He is the one I want to comfort, he is the one I want to giggle with, he is the one I want to grow old with. He is the one.