I am not a big

white wedding

dress kind of a girl. That's what I always thought! However, when I got the chance to choose a dress from JJ's House I changed my mind…

I spent HOURS searching the site for wedding dresses. It was so difficult to choose as they are all so beautiful and there really is a design (or many!) for everyone! There are also prom dresses, occasion dresses and a wide range of shoes and accessories.
The dress I chose was an ankle length one but as I am so short I correctly guessed that it would be the perfect floor length on me 🙂
I never envisioned myself in white so I was stunned at how amazing it felt in the dress which is so lightweight and comfortable. The sequin and bead detail are beautiful.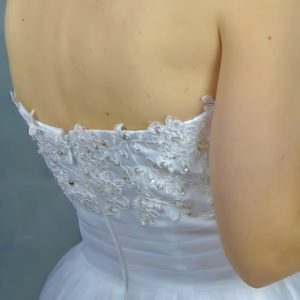 It is possible to custom size the dress for an extra £15 but I decided to stick with my usual size 8 and the fit was perfect.
I also got a petticoat but this dress has beautiful layers of netting that didn't tangle round my legs or need further puffing out.
My wedding colour scheme is purple and my bridesmaids will wear lilac whilst the page boys will have Cadbury purple waistcoats. I wanted accessories to fit in with this and chose a beautiful bag and shawl which look very striking against the pure white of the dress.
The dilemma I now have is that Chris will see these pics so will see me in the dress which is bad luck for the wedding!
I am so in love with this dress!
Many thanks to my old school friend Roxanne at R Dexter Photography for taking the photos: it was great to catch up!
*I received this dress for the purpose of this review. All opinions are my own, all photos were taken by R Dexter Photography.