This year something unusual has happened: we've put our decorations up already!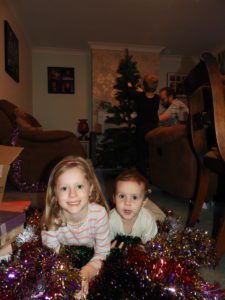 It is the tradition in our family to put the decorations up on the weekend nearest my dad's birthday in mid December. When I was a child, his parents would come over to join in and it was a big family event.
My husband Chris has the SAME birthday! And had the same tradition growing up!
Now in our own home, we have been putting the decorations up earlier and earlier each year to create our own traditions and also so we get to enjoy the festive feeling for longer.
This year we have gone for a slightly more subtle look than other recent years. Mostly due to Zach's 'help' which means everything has to be out of reach and we had to put it all up quickly as he was trying to destroy it all while we did it!
We have foil decorations on our ceiling. Apparently this is uncool but it wouldn't be Christmas without them! All of the upstairs doors have tinsel on as well as our wedding canvas.
We have also started to get outside decorations. The main road in our area is quite famous for putting on a fab festive light display and now we own a house off it we join in too. We have set ourselves a limit of one new light each year. This year's addition are the stars and trees on the lawn.

When do you put up your decorations?