The nights are drawing in and Halloween is approaching! I had a look through my children's bookshelves to find some stories to encourage some spooky enjoyment.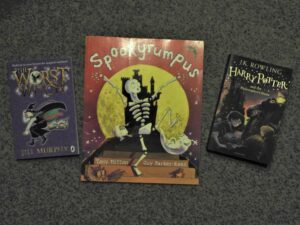 First up is Spookyrumpus by Tony Mitton and Guy Parker-Rees. The scary Halloween charcters are gathering at midnight. Witches, ghosts, spiders, skeletons and more! This is a rhyming book with bright colourful pictures. The characters come to life in the illustrations but are not scary. The book counts backwards from 10 so also has an educational angle.

A book from my childhood that I have now shared with Anya: The Worst Witch by Jill Murphy. A classic novel of magical mayhem courtesy of inept witch Mildred Hubble. A new student at Miss Cackle's Academy, she has a best friend Maud and nemesis Ethel as she tries to learn magic. But the school is threatened and Mildred is their only hope…
I was a bit late to the Harry Potter scene, not reading the first book until after the third was published. I was then firmly hooked on the series and queued at midnight to buy the final installment in 2007. Last year I began to read the books to the children each night and it has been lovely to share Harry's adventures (we are currently reading Deathly Hallows and should be finished before Christmas)
Do you have any favorite books for Halloween? Let me know in the comments!