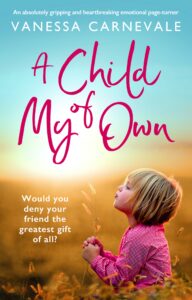 Lucy and Nate had decided they never wanted children but, after an accident, Nate reconsiders his life and tries to persuade Lucy that a child would be wonderful. She finally agrees but too late as another accident brings tragedy… Isla and Ben were desperate for children a decade ago and their best friends agreed to donate embryos. The friendship stuttered and contact was cut but now it is time to tell their daughter the truth…
A Child Of My Own has such a fascinating dilemma, both in emotional terms but also moral. The rights to ownership of embryos is a tricky one, made even more so by the emotional investment in their existence.
One of the things I liked most about this book is that I was able to put myself into both of the lead women's mindsets. The book is written in the first person narrative of both Lucy and Isla so their perspectives are equally represented. However, I found myself swayed towards one viewpoint based on my own morality but the right and wrong of the situation are so complex and blurred.
Against the main backdrop of the questions surrounding the remaining embryo, there is also the emotional angst of Reese's discovery of her true parentage. I did not find the child character particularly authentic as she sometimes seemed much older than 9 but at other times much younger.
The style of writing is easy to read and the theme of motherhood shines through. The mother-daughter relationships between Lucy and Isla and their own mothers has coloured their own perspectives and choices.
A Child Of My Own was thoroughly entertaining due to the complexity of the legal, social, emotional and moral dilemma at its heart. My own heart was greatly affected by the plot and characters.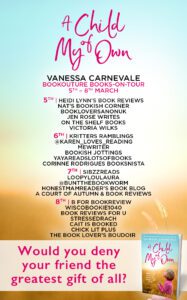 A Child Of My Own book description:
As I watch her walk away, an arm raised to her face as she wipes tears from her eyes, I wonder if I really can go through losing her again. Because if I do this, I might gain a child, but I'll lose her in the process.
Isla and Ben are devoted parents to their beloved daughter, Reese. She is their little miracle, the child they thought they'd never have until donors made her existence possible. But Isla has never told Reese about her biological parents. She wants to be honest with her daughter, but can she bear to open up old wounds?
Then Isla receives a call from Lucy, once her closest friend and the donor who made her dreams come true, and it seems she may need to make a decision sooner than she thought. They haven't spoken in almost ten years, but Lucy has devastating news: she has lost her beloved husband Nate, just after they decided they wanted to become parents after all.
Heartbroken for her friend, Isla welcomes Lucy back into her life. But then Lucy comes to Isla with a request that changes everything. If Lucy gets what she wants, Isla's perfect family could be destroyed. But would she deny the woman who helped her become a mother the chance for her own happiness?
A Child of My Own is a heartbreaking, gripping and emotional story about motherhood, loss and friendship, perfect for fans of Jodi Picoult, Kelly Rimmer and Kate Hewitt.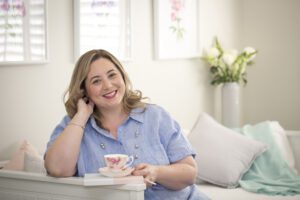 Author Bio:
Vanessa Carnevale is an Australian author of women's fiction. She is also the host of Your Beautiful Writing Life retreats held in Tuscany and Australia.
Vanessa loves to travel, and spent several years living in Florence, Italy, a place she considers her second home. She lives in Australia with her husband and two children.
Her previous novels, THE MEMORIES OF US and THE FLORENTINE BRIDGE are published by HarperCollins and have been translated into German and Slovenian. Vanessa's third novel will be published by Bookouture in August 2020.
Buy Links: