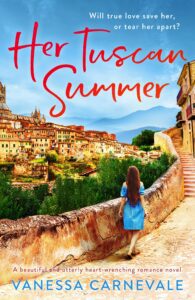 Mia Moretti arrives in Tuscany, excited but anxious. She has finally been given the all clear from her cancer and now wants to follow her dream of painting. She meets and falls in love with Luca but will her fears about the future get in the way?
Her Tuscan Summer is a warm novel about love and hope. It has an important message about not taking our lives for granted, to challenge ourselves to make the most of every day.
Mia has been through an awful few years and has lost the ability to paint. Now she uses art as a therapy, to capture and appreciate the beauty of life. Yet her fears about her illness and her future leave a shadow hanging over her. The link between physical wellbeing and mental health is strongly emphasised.
The book is written in the first person so we are witness to Mia's hopes and fears. She falls in love quickly and completely with Luca, a man who has experienced grief and equally understands how precious life is. The first half of the book is a simple love story but then there is a twist halfway through which causes the couple to evaluate their future.
The landscape and culture of Italy is wonderfully brought to life and is almost the third main character in the book! The food, the art, the lifestyle combine to provide a backdrop to the plot.
Her Tuscan Summer is an emotional book with an important message about appreciating those we love. I have previously reviewed A Child of my Own by Vanessa Carnevale.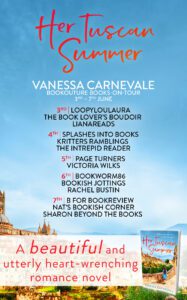 Her Tuscan Summer book description:
I take my spot behind Luca and soon we're racing down winding country roads through the breathtaking Italian countryside, with postcard-perfect sunflowers that carpet faraway fields. I have no other place to be, and no other person I'd rather be with.
Mia Moretti has always dreamed of becoming an artist. But after a fierce battle with a devastating illness that she is terrified will return, Mia is heartbroken to find herself unable to paint like she used to.
So when an opportunity to spend the summer in Italy presents itself, Mia jumps at the chance for a fresh start. She hopes that by travelling to the sun-drenched streets of Florence, surrounded by Tuscany's rich green vineyards and sweeping hills, she will finally be able to heal.
What Mia doesn't count on is meeting handsome local mechanic, Luca Bonnici. With his smouldering chestnut eyes, charming smile and irresistible joie de vivre, Mia can't resist the invitation to jump on the back of his motorbike to the see the country she is already falling in love with. And as she slowly lets down her walls and opens her heart to Luca, Mia starts to fall in love with life again too.
But just when she is ready to let go of her past, tragedy strikes. Will Mia's strength and her love for Luca be enough to save them, or will they lose each other forever?
Lose yourself in the blue skies and sun-kissed streets of Florence with this gorgeous, heart-wrenching story about love and second chances. Perfect for fans of That Month in Tuscany, T.A. Williams and Lucy Coleman.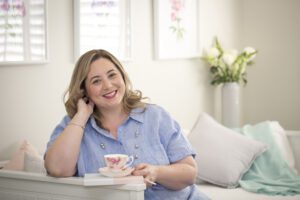 Author Bio:
Vanessa Carnevale is an Australian author of women's fiction. She is also the host of Your Beautiful Writing Life retreats held in Tuscany and Australia.
Vanessa loves to travel, and spent several years living in Florence, Italy, a place she considers her second home. She lives in Australia with her husband and two children.
Her previous novels, THE MEMORIES OF US and THE FLORENTINE BRIDGE are published by HarperCollins and have been translated into German and Slovenian. Vanessa's third novel will be published by Bookouture in August 2020.
Buy Links: