Alexi is newly single and unemployed so she heads for her friends' hotel Hopwood Hall in the countryside. They are concerned about another friend who has disappeared. Alexi's journalist instinct kicks in and she is convinced that there is something sinister behind Natalie's disappearance. She joins forces with ex cop Jack who is also looking for Natatlie…
A Date To Die For is the first book in a new cosy murder mystery series set in London and the south of England.
We as readers are instantly drawn to Alexi as she adjusts to drastic changes in her personal life and career. She is accompanied by the wonderful Cosmo, a fearsome and magnificent cat who is a brilliant judge of character. She meets Jack who is also hugely likable and there is a romantic tension between the pair so I'm hoping for more in future books.
The case itself surrounds a missing woman. Natalie has vanished and Jack's sister runs the dating agency that she had joined. He quickly investigates the dates and discovers huge secrets from Natalie's past could actually be responsible for her disappearance. There are some big plot twists and I wasn't able to unravel the mystery before our investigators.
A Date To Die For is an enjoyable cosy murder mystery. It sets up the main characters well so I am looking forward to reading more from this series.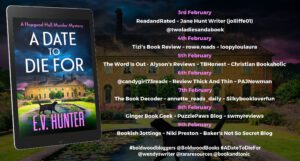 A Date To Die For
The start of brand-new Cozy Crime series! Welcome to Hopgood Hall.
An unlikely duo…
When investigative journalist, Alexi Ellis, falls victim to cutbacks, she and Cosmo, her anti-social feral cat, head for beautiful Hopgood Hall, where they plan to lick their wounds in the boutique hotel run by her old friends, Cheryl and Drew Hopgood.
A missing woman…
But when she arrives Alexi discovers Cheryl and Drew both distraught. Their close friend, Natalie Parker, who recently settled in the area, has gone missing. Alexi's sure the woman has just taken a trip somewhere, but she still has a nose for a story and agrees to look into it.
A case to solve!
So too does ex-Met Police detective turned private eye, Jack Maddox. Natalie Parker had been using his sister's online dating agency and Jack needs to find her before his sister's business is ruined.
Reluctantly, Alexi, Jack – and Cosmo! – join forces to find out what happened to Natalie. But soon they discover secrets that someone desperately wants to make sure are never revealed!

Perfect for fans of Faith Martin, Frances Evesham and Emma Davies.

Author Bio –
Evie Hunter has written a great many successful regency romances as Wendy Soliman and is now redirecting her talents to produce dark gritty thrillers and cozy crime for Boldwood. For the past twenty years she has lived the life of a nomad, roaming the world on interesting forms of transport, but has now settled back in the UK.
Social Media Links –