Minor celebrity Chrystabel is hoping her wedding to Giles will boost her career. But they are not the loved up couple they appear. She started dated him on the rebound and is still in contact with her ex, while GIles is in love with one of her bridesmaids. The wedding definitely won't go ahead once Giles is found stabbed to death with Chrystabel standing over him with a bloody dagger…
A Marriage To Murder For is the third book in the Hopgood Hall cosy murder mystery series. I have previously read and reviewed the first two books: A Date To Die For and A Contest To Kill For.
Alexi's foray into hotel management is still not very successful. She has encouraged her friends and business partners to host weddings but this new venture looks doomed to failure. Bridezilla Chrystabel and her henpecked fiance Giles are their first clients and on the joint stag and hen night there are incidents aplenty. By the end of the evening Giles is dead and Chrystabel is the chief suspect but Alexi and Jack's observations may provide alternative suspects and motives.
Straightaway we are sympathetic to Giles as he is bossed around by his bride to be. This contrasts with Alexi and Jack's relationship which is getting stronger. However, her newpaper editor ex Patrick is still hovering in the background especially once he sniffs out a story. Alexi and Jack want to resolve the murder quickly to protect the hotel so start their own investigation into the hen and stag guests. Once again there are touches on gentle humour and the inclusion of Cosmo the cat adds light relief to the grisly matter of murder.
A Marriage To Murder For is an enjoyable murder mystery.

A Marriage to Murder For
The high society wedding…
Social media influencer Crystabel Hughes is determined her wedding to Giles Preston Smythe will be the talk of the town. No matter the cost or the upset, nothing will stop this wedding!
A cheating groom…
But for Alexi Ellis and the rest of the staff at Hopgood Hall, Crystabel's demands are becoming increasingly extreme. And when Alexi spots the groom getting up close and personal with one of the bridesmaids, she fears trouble is only a bouquet toss away.
A killer bride caught red-handed?
And Alexi's fears are confirmed when the groom is found dead on the night before the wedding, stabbed through the heart – the person holding the dagger. his beloved bride-to be Crystabel.
Hopgood Hall doesn't need any more bad press, but the race is on to find the killer and close the case before Crystable live streams her dilemma.
Can Alexi, Jack and Cosmo find out why Giles was killed? And, more importantly, can they stop the killer before they strike again?
Perfect for fans of Faith Martin, Frances Evesham and Emma Davies.

Author Bio –
Evie Hunter has written a great many successful regency romances as Wendy Soliman and is now redirecting her talents to produce dark gritty thrillers for Boldwood. For the past twenty years she has lived the life of a nomad, roaming the world on interesting forms of transport, but has now settled back in the UK.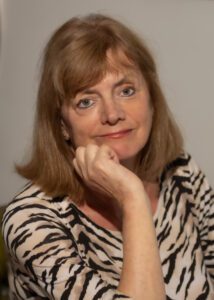 Social Media Links –