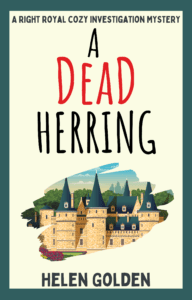 Lady Bea is at the royal family's Scottish castle for a winter shooting party. Nowhere near the awful Detective Fitzwilliam. Or so she thinks…until a murder takes place among the guests and the only officer available is her nemesis…
A Dead Herring is the fourth book in the Right Royal cosy murder mystery series. I have previously reviewed the earlier books in the series: Spruced Up For Murder, 

For Richer For Deader

, and Not Mushroom For Death.
Ben Rhodes has made plenty of enemies and has had to hire a bodyguard. But surely he is safe at a royal residence… NOPE! Ben is found dead in the bath as the royal family are snowed in on their estate. Luckily (or unluckily, judging by Bea's response!) DCI Fitzwilliam is staying with friends on the estate and is able to visit the main house to try to track down the killer.
There is plenty of tension between Bea and Fitzwilliam as usual. They rub each other up the wrong way and take offence when none is meant. In contrast to this is the loving relationship between Perry and Simon who both have marriage on their minds. Daisy the dog continues to have a prominent role in finding clues and getting help for those in danger.
I love this series of books. There is a wonderful light hearted tone to the writing as well as humour in the dialogue. Once again there are several suspects to investigate with plenty of red herrings along the way. Bea finally finds out the truth about her brother's work as well as extra information about her late husband. I did manage to guess the killer but this did not spoil my enjoyment of the book at all.
A Dead Herring is a hugely enjoyable cosy murder mystery from a brilliant series.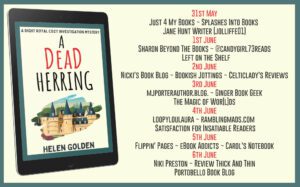 A Dead Herring
BREAKING NEWS Urshall United FC Owner Dies at Drew Castle
 Details are sketchy at this stage, but it is believed businessman Ben Rhodes (38) was found dead in his bathroom at the king's Scottish home by his twin brother Max, where the pair were guests at a shooting party hosted by Lord Frederick Astley (39), brother of Lady Beatrice (36). The cause of Mr Rhodes' death is not known, but he started receiving death threats from football fans after his controversial takeover of the club and had recently employed his own personal security.
How unlucky can a girl get? Is fate playing a cruel trick on her for boorish Detective Chief Inspector Richard Fitzwilliam to be the only person who can get to the snowed-in castle to investigate Ben Rhodes's death? And with no other external resources available to him, he now needs her, her smart dog, and her best friends' help to catch the killer. Can they put their issues behind them and work together to find the murderer before the weather improves and the perpetrator is free to leave?
Another page-turning cozy British whodunnit with a hint of humour from author Helen Golden.

Author Bio –
Hello. I'm Helen Golden. I write British contemporary cozy whodunnits with a hint of humour. I live in small village in Lincolnshire in the UK with my husband, my step-daughter, her two cats, our two dogs, sometimes my step-son, and our tortoise.
Previusly, I worked in senior management, but after my recent job came to a natural end I had the opportunity to follow my dreams and start writing. It's very early in my life as an author, but so far I'm loving it.
It's crazy busy at our house, so when I'm writing I retreat to our caravan (an impulsive lockdown purchase) which is mostly parked on our drive. When I really need total peace and quiet, I take it to a lovely site about 15 minutes away and hide there until my family runs out of food or clean clothes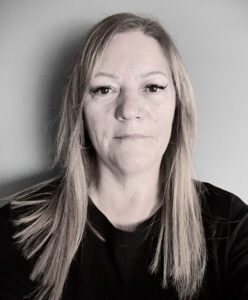 Social Media Links –