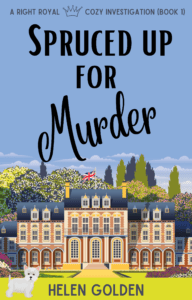 Lady Beatrice is the granddaughter of the king and queen. A man is found dead on her estate and the police officer in charge is the dreadful man who investigated her husband's death fourteen years earlier. She is determined to find the killer first…
Spruced Up For Murder is a cosy murder mystery and the first in a new series. I read the initial couple of chapters and thought it was set in the past but the use of a mobile phone made me realise it is a modern setting!
Bea is a widow and has lived like a recluse since her husband died. Now she has a purpose and is renovating part of her ancestral home when a member of staff is killed. There is a connection between the dead man and her husband's death but Bea struggles to find anyone with motive and opportunity. She is ably assisted in the renovation and murder investigation by Perry Juke who is simply a divine character. Bea also relies on her beloved dog Daisy and a slightly unhealthy coffee obsession!
I absolutely loved this book. My interest in the plot and characters was maintained until the very end. The antagonism between Bea and Fitzwilliam was fun to read as they try to remain respectful but score points against each other. It was heartwarming to see Bea and Perry (and his partner Simon) developing a close friendship. They bring her out of her shell which allows her to forget the pain of her past. I enjoyed the use of a different fictional royal family and felt completely immersed in the storyline.
Spruced Up For Murder was a fantastic read and I can't wait for more!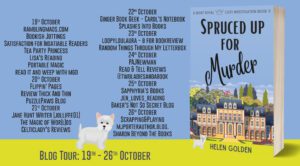 Spruced Up for Murder
Death at Francis Court Now Confirmed as Murder!
Speculation is rife that the victim, estate manager Alex Sterling (44), was found by Lady Beatrice (35), the Countess of Rossex, niece of King James. Lady Beatrice, who has finally come out of hiding following her son's departure to boarding school, has been managing the project to refurbish and redesign the Events Suite at Francis Court, alongside Perry Juke.
Heading up the murder investigation is Detective Chief Inspector Richard Fitzwilliam. Rumour has it that he and Lady Beatrice have a fractious history…
 Awful man! How dare Fitzwilliam suggest Lady Beatrice's sister is the number one suspect for Alex's murder. It could be any one of the staff who were on-site that morning. Well, she'll show Mr High and Mighty Fitzwilliam! With her attention to detail, her clever dog Daisy, Perry's imagination, and his partner's contacts at Fenshire CID, they'll find the murderer before him.
Unless the murderer finds her first…

Purchase Links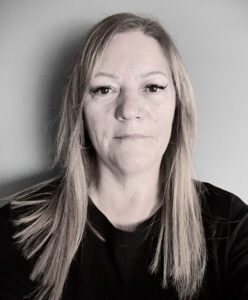 Author Bio –
Hello. I'm Helen Golden. I write British contemporary cozy whodunnits with a hint of humour. I live in small village in Lincolnshire in the UK with my husband, my step-daughter, her two cats, our two dogs, sometimes my step-son, and our tortoise.
After my recent job came to a natural end I had the opportunity to follow my dreams and start writing. It's very early in my life as an author, but so far I'm loving it.
It's crazy busy at our house, so when I'm writing I retreat to our caravan (an impulsive lockdown purchase) which is mostly parked on our drive. When I really need total peace and quiet, I take it to a lovely site about 15 minutes away and hide there until my family runs out of food or clean clothes