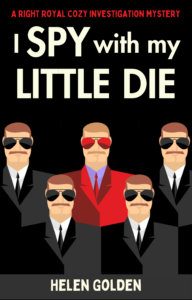 Two dead police officers with a connection to the royal family. Lady Bea, the king's granddaughter, and her nemesis DCI Fitzwilliam believe that there is a murderer on the loose but can they find out the truth?
I Spy With My Little Die is the fifth book in the Right Royal cosy murder mystery series. I have previously reviewed the earlier books in the series: Spruced Up For Murder, 

For Richer For Deader

, Not Mushroom For Death, and A Dead Herring.
One police officer is shot in the line of duty but seems to be recovering before dying of an unexpected heat attack. Another officer dies alone in his office, again a sudden heart attack is suspected. But both men have links to the death of a royal so DCI Richard Fitwilliam is called upon to investigate. There is a strong link to events in the past so I think it would be beneficial to have read the previous books in order to better understand the back story about Bea's husband.
I really love this series so I was a little disappointed that Lady Bea, Perry and Simon do not feature too much in this book. The focus is upon the police dimension and characters which creates a great tension and mystery. However, I wanted more of the personal touch especially between Bea and Fitzwilliam.
The whodunnit element was full of twists and Fitzwilliam's investigation makes him reconsider and make discoveries about Bea's late husband and his death. I did guess who the killer was but this did not spoil my enjoyment of watching events play out and I had no idea of the motive.
I Spy With My Little Die is a solid addition to the series but I hope for more of Lady Bea next time.

Book blurb: I Spy With My Little Die
Uncovering a web of conspiracy that intertwines past and present, can Lady Beatrice and DCI Richard Fitzwilliam catch a killer and unveil the truth of her husband's death at long last?
BREAKING NEWS Second Senior Police Officer Dies Within a Week
A senior officer from the Protection and Investigations (Royal) Services died unexpectedly yesterday. His death comes hot on the heels of Detective Inspector Ethan Preece (43) from City Police, who died of a suspected heart attack last week. Although he's not yet been named, the dead officer was a greatly respected public figure, who had served in policing for over thirty years. A PaIRS spokesperson has confirmed that 'neither men's death is being treated as suspicious at this time'.
With the senior PaIRS officer dead, so is any hope of reopening the inquiry into Lady Beatrice's husband's accident fifteen years ago. Unless, of course, there is something that links the two men to the earl's fatal car crash?
Can she and Fitzwilliam, along with their friends, work together to unravel the mystery and catch a killer before the truth is buried forever?

Purchase Links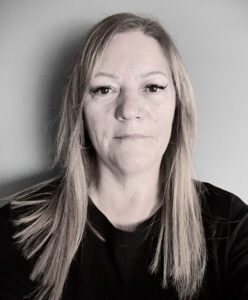 Author Bio –
Hello. I'm Helen Golden and I write British contemporary cozy whodunnits with a hint of humour. I live in small village in Lincolnshire in the UK with my husband, my step-daughter, her two cats, our two dogs, sometimes my step-son, and our tortoise.
I used to work in senior management, but after my recent job came to a natural end I had the opportunity to follow my dreams and start writing. It's very early in my life as an author, but so far I'm loving it.
It's crazy busy at our house, so when I'm writing I retreat to our caravan (an impulsive lockdown purchase) which is mostly parked on our drive. When I really need total peace and quiet, I take it to a lovely site about 15 minutes away and hide there until my family runs out of food or clean clothes
Social Media Links –