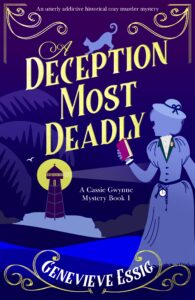 Cassie Gynne heads to Florida in 1883 following the death of her father. She meets her aunt in jail after an eventful arrival but this is just the beginning for the unconventional pair! Her aunt's enemy is dicsovered dead at the bottom of a tower and Cassie is sure it is murder but regrets pressing for an investigation when her aunt becomes the prime suspect…
A Deception Most Deadly is an historical cosy murder mystery set in America in the 1880s.
Cassie and her aunt Flora are thoroughly modern women. Both are feisty and independent with a healthy splash of the eccentric as well. They find themselves embroiled in a murder investigation and Flore is quickly accused of being the prime suspect. Cassie begins her own search to clear her aunt's name and uncovers awhole host of secrets and lies.
I found the pace of the plot varied with some patches where little happened, and others where the twists and turns occurred relentlessly fast. I was kept guessing as to the culprit and motive until the very end.
The tone of the book is gently humorous, witty rather than laugh out loud funny. However, there are some wonderful turns of phrase that the author uses that made me smile. There is an emotional side to the book as well as Cassie is dealing with her grief for her late father as well as having entanglements of the heart, but will she choose the right man…?
A Deception Most Deadly is quite a quirky book in terms of the style of writing as well as the lead characters.

A Deception Most Deadly: An utterly addictive historical cozy murder mystery (A Cassie Gwynne Mystery Book 1) by Genevieve Essig
About the book
Meet Cassie Gwynne: bookworm, cat lover, reluctant heiress… and determined detective?
Florida, 1883. Cassie Gwynne is looking for a fresh start when she steps off the steamship at Fernandina harbor for the first time. She's trying hard to be a proper lady, for once. She's styled her unruly hair, shined her boots, and even purchased a whole new fashionable (or at least fashionably priced) wardrobe. However, she's certain finding a body is not very ladylike behavior…
While out exploring the beautiful island with her Aunt Flora, Cassie stumbles across the body of Peanut Runkles, town grump and her aunt's neighbor, lying at the foot of the harbor pilots' lookout tower. To make matters worse, because Peanut and Flora have been quarreling for years over everything from Flora's eccentric ideas to her pet pig's fondness for Peanut's vegetable patch, Flora is immediately arrested for murder.
Desperate to save the only family she has left, Cassie vows to prove Flora's innocence and untangle the mystery herself, no matter how much the surly local sheriff disapproves. Cassie's brilliant mind and nose for a clue lead her on an investigation that takes her all around the island, and even earns her a valiant furry friend in Esy the kitten.
But how does the mysterious ledger Cassie finds hidden in a secret drawer in Peanut's desk connect to the crime? Cassie is determined to dig up the truth, but can she catch the killer before her time on the island comes to a deadly end?
This warm and witty cozy mystery will transport you to the island city of Fernandina and introduce you to a feisty heroine far before her time! Perfect for fans of Verity Bright, T E Kinsey and Deanna Raybourn.
Buy link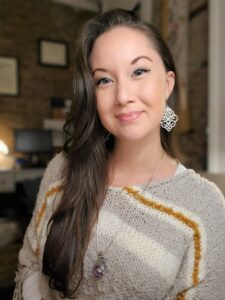 About the author: Genevieve Essig
If you think about it, it makes perfect sense I'd eventually try to be a writer. One need only examine my childhood, as any therapist will tell you, and look for the signs: On family vacations my poor mother, already on her last nerve as my father, the Botany Professor, drove us around winding mountain roads with one eye on the ground vegetation, constantly screamed at me to "stop reading and look at the scenery." I assigned my books call numbers and insisted my friends "check them out" from my "library" (the fines for late returns were steep but, as it turned out, largely unenforceable). I wrote plays about forest fairies and figures from classical mythology and petitioned for special dispensation so I could stage them on the playground during lunch. My favorite school task was diagramming sentences.
So, when, many years later, I scaled back my other work to spend more time writing, no one really should have been surprised. Concerned for my sanity and financial well-being, maybe, but not surprised. And am I ever glad I did. I am truly blessed, and I make an effort every day to remember that.
What else… I'm half-Chinese and Florida-raised, Yale- and UVA- educated, and Chicago…buffed and polished? In any case, I now proudly call New Orleans home, and when I'm not writing or getting lost down research rabbit holes, I spend my time practicing law, shooting pool, performing operas and musicals, ogling old buildings, acting for film and television, futzing with inventions that address highly specific and possibly only-annoying-to-me problems, traveling, ranting at bartenders about the evils of straws, riding horses, and petting strange cats (though, since we've recently welcomed home a new kitten friend, Musette, I might need to cut back on that last).
Author social media