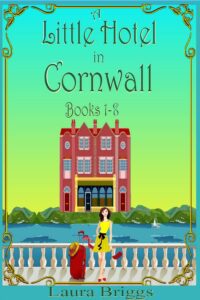 Maisie Clark is desperate to find an author to act as her mentor for a prestigious writing scheme. She travels from LA to Cornwall to seek out a reclusive author and ends up working as a maid at the hotel where he writes.
A Little Hotel in Cornwall box set contains 8 novellas, all between 150 and 250 pages each.
The first novella is also titled A Little Hotel in Cornwall and sees Maisie start her journey. It is written from her first person perspective and the style of writing is easy to read. There is plenty of humour as Maisie finds herself a job as a maid by pretending to be someone else. She also has to keep this a secret from her rich ex boyfriend who happens to be at the hotel. Maisie experiences the beginning of a new potential romance with local man Sidney. I enjoyed the premise of the book and Maisie's bravery and passion shine through.
Maisie's quest continues in the second novella which is titled A Spirited Girl on Cornish Shores. She continues to hide her identity from most of the characters and her relationship with Sidney develops further. The light hearted tone is maintained although this story is set around Halloween so has a spooky undertone as well. Maisie is a strong lead character and so easy to like that we really want her to succeed.
I look forward to reading the rest of the box set this summer and seeing how Maisie's character develops as she strives to achieve her dream.

A Little Hotel in Cornwall: Books 1-8
All eight novellas in the UK bestselling series A LITTLE HOTEL IN CORNWALL are now available in one collection! Follow aspiring young author Maisie Clark as she stumbles into a role as a maid in the idyllic hotel by the sea, where there's never a dull moment, from her quest to track down a reclusive English novelist, to her brush with jewel thieves and a whirlwind trip through Paris and London to name a few. All the while, she finds herself falling for the handsome and enigmatic groundskeeper Sidney Daniels. Could the key to unlocking her dreams be right in front of her?
This collection contains A Little Hotel in Cornwall, A Spirited Girl on Cornish Shores, Sea Holly and Mistletoe Kisses, The Cornish Secret of Summer's Promise, A Train from Penzance to Paris, A Cornish Daisy's Kiss, A Stargazy Night Sky, and The Cornish Key to Happiness.

Author Bio –
Laura Briggs is the author of several feel-good romance reads, including the Top 100 Amazon UK seller 'A Wedding in Cornwall'. She has a fondness for vintage style dresses (especially ones with polka dots), and reads everything from Jane Austen to modern day mysteries. When she's not writing, she enjoys spending time with family and friends, caring for her pets, gardening, and seeing the occasional movie or play.
Social Media Links –
Giveaway to Win a PB copy of A Little Hotel in Cornwall: Books 1-8  and a scarf with cover art from the series printed on it. (Open to UK and US Only)
*Terms and Conditions –UK & US entries welcome.  Please enter using the Rafflecopter box below.  The winner will be selected at random via Rafflecopter from all valid entries and will be notified by Twitter and/or email. If no response is received within 7 days then Rachel's Random Resources reserves the right to select an alternative winner. Open to all entrants aged 18 or over.  Any personal data given as part of the competition entry is used for this purpose only and will not be shared with third parties, with the exception of the winners' information. This will passed to the giveaway organiser and used only for fulfilment of the prize, after which time Rachel's Random Resources will delete the data.  I am not responsible for despatch or delivery of the prize.
a Rafflecopter giveaway