1953, Clara and Ivor are busy planning their wedding. The pair are devoted to the children in the orphanage and Ivor treks to Norfolk to support a former resident. Tragedy strikes as Ivor becomes unaccounted for during a terrible flood and Clara is distraught but tries to stay strong for the children in her care.
An Orphan's Wish is the fifth book in the Shilling Grange series. I have previously read and reviewed the fourth book in the series, The Children Left Behind.
Clara and Ivor have not had an easy route to happiness. She has endured multiple bereavements while he has been terribly injured physically in the war and emotionally by his ex. Now they have finally admitted their feelings for each other and are excitedly planning the future, starting with the wedding. Plans come to an abrupt halt when Clara hears that one of her former charges is being mistreated and Ivor heads off to find out the truth about the allegations.
I liked the inclusion of real life events to underpin the plot. The flood in Hunstanton in 1953 really happened and 31 people lost their lives. The plot is very slow with the minutiae of life in the home. Poor Clara does a lot of worrying and soul searching as she waits for news of Ivor and worries about her charges. There are lots of characters and I did find it a little tricky to keep it clear in my head who they all were and their relationships to each other.
An Orphan's Wish is an emotionally charged historical novel.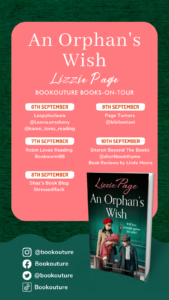 An Orphan's Wish: A gripping and emotional historical novel (Shilling Grange Children's Home Book 5)
England, 1953. An emotional and heartbreaking story about children tragically orphaned by the war, and the woman who is determined to save them, whatever it takes.
When Clara Newton became House Mother of Shilling Grange Orphanage, it was only supposed to be temporary, a job to help piece her life back together again after the war had torn it apart. But five years on, Shilling Grange is more than just a job, it's her calling. The orphans have given her a reason to live again, as has her handsome war hero neighbour Ivor, who is now her dashing fiancé.
As Clara starts to plan her perfect wedding, she is shocked to discover that the village expects her to leave Shilling Grange once she is married. They can't imagine how she could possibly be a good housewife while working full time at the orphanage. But Clara is horrified at the idea of deserting her orphans who have no one else in the world.
Clara starts to consider who could possibly replace her if she left. Who would take care of precious Peg who has never spoken a word or known love from anyone but Clara? And who would protect timid Jonathan from his life-changing secret that only Clara knows?
But when a storm causes a catastrophic flood that risks the life of Ivor and the children, Clara is suddenly on the brink of losing everything once more. In this final heart-wrenching book in the series, will Clara and Ivor finally make it down the aisle? And will Clara find the strength to save the orphanage and stop it from falling into the wrong hands?
An utterly tear-jerking and unforgettable historical novel, set in the aftermath of World War Two. Perfect for fans of Before We Were Yours, Diney Costeloe and The Orphan Sisters.

Author bio
Lizzie Page is the pseudonym of Sam Lierens, a mum of three, who (for some reason) got a puppy this year. Sam has lived and worked in Paris, Tokyo and London and loves combining her love of history with fiction.
Author social media
Facebook URL
Instagram URL
Twitter URL
Newsletter sign up