Sam and Maggie are taking part in an archaeological dig when a body is discovered. But it is much more recent than expected, and the killer may still be alive…
At Death's Door is quite a quirky crime mystery novel. It is the second book in the series and I have not read the first. However, there are no spoilers about events from the previous book.
Maggie is a wonderful character and I liked how she is presented via the first person. She is psychic and can see spirits which has significant impact on her in terms of the murder investigation as well as her personal life as tragedy strikes. I really liked this element to the book although one vision was particularly heartwrenching.
The discovery of the body takes a back seat after the initial discovery as Maggie's personal life and family relationships takes centre stage. This adds a great deal of emotion to the book which is softened by Maggie's eccentric personality and humorous escapades.
The book is written from third person perspectives, mainly focussed on Sam and Andrea, but also Maggie in the first person. I found it a little tricky to get into the book due to the style of writing and how it jumps between characters and in time to relevant flashbacks in the past. However, by a third of the way through I had settled in and coped better with the changes.
At Death's Door has a strong plot and lead character and I'm glad I persevered to get to grips with the style.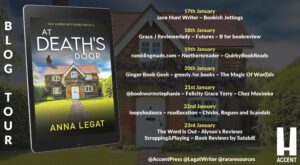 At Death's Door
When Maggie Kaye and Sam Dee join the Bishops Well archaeological dig, they are as surprised as everyone else to unearth a body that was buried there less than fifty years ago. It can't possibly be the remains of an ancient Celt.
Maggie, with her usual flair – and psychic intuition – is convinced that there is more to this discovery than meets the eye. And some Bishops residents seem to know a lot more about the case than they are willing to let on.
But nobody is as shocked as Maggie when a face from the past – a face she thought she'd never see again – appears in the village, and long-hidden secrets begin to surface.
With danger at her door, and Sam by her side, can Maggie uncover the truth before it's too late?
Purchase Links

Author Bio –
Anna Legat is a Wiltshire-based author, best known for her DI Gillian Marsh murder mystery series. Murder isn't the only thing on her mind. She dabbles in a wide variety of genres, ranging from dark humorous comedy, through magic realism to dystopian. A globe-trotter and Jack-of-all-trades, Anna has been an attorney, legal adviser, a silver-service waitress, a school teacher and a librarian. She has lived in far-flung places all over the world where she delighted in people-watching and collecting precious life experiences for her stories. Anna writes, reads, lives and breathes books and can no longer tell the difference between fact and fiction.
Subscribe to Anna's News, Rumours and Scandalous Revelations at https://landing.mailerlite.com/webforms/landing/j6b7k1
Social Media Links –