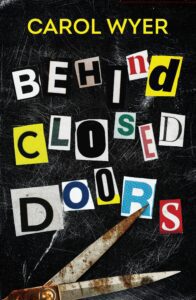 Thirty years ago Stacey was kidnapped. Her father didn't pay the ransom but thankfully she was rescued. Most of the memories have been blocked out but now they come rushing back when her stepdaughter goes missing…
Behind Closed Doors is a psychological and crime thriller set in the UK.
Stacey's ex husband turns up with the devastating news that his daughter Lyra is missing. She has been kidnapped and he is frantic. Stacey is concerned for Lyra's safety but finds it hard to trust Jack. She gradually notices similarities between her own kidnapping and the present scenario. She can't trust Jack due to their past and his current erratic behaviour.
The subject is very emotive with a child at risk as well as the flashbacks of Stacey's own kidnapping. From the start we know that Stacey was injured by her kidnapper and this raises the tension as she begins to suspect that the original kidnapper is once again responsible.
I felt that this book is quite dialogue led and the chapters are a little long which slows the pace. There is plenty of drama and emotion. Our perspective of the other characters and events are driven by Stacey's viewpoint as she struggles to deal with the flashbacks and current danger.
Behind Closed Doors is tense and dramatic.
Book Blurb
Two kidnappings, thirty years apart. Can Stacey face her own dark past in order to save her stepdaughter?
When Stacey's ex-husband turns up on her doorstep begging her to help save his kidnapped thirteen-year-old daughter, Lyra, the terror is all too familiar. Stacey's own violent kidnapping thirty years ago was never solved, and while a severe case of amnesia spares her from recalling the specific horrors, she remembers enough…
Stacey knows her father never paid the ransom—she has the missing pinkie finger to prove it. She knows she was only saved because of an anonymous tip-off to the police. And she knows her captor was never apprehended.
Lyra's kidnappers have made it clear the police must not get involved. But Stacey can't shake the eerie similarities between the two cases, and she'll use whatever she can, from her journalistic powers to her shady contacts, to save Lyra from the same nightmare. Desperate to find any link between Lyra's abduction and her own, Stacey forces herself to revisit her forgotten, traumatic past for clues.
But can she make sense of the terrible secrets she unearths in time to save Lyra? And if she does, is she ready to face her own tormentor?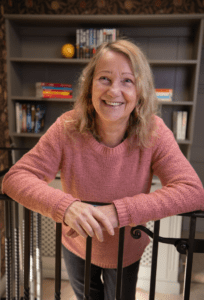 Author Bio
USA Today bestselling author and winner of The People's Book Prize Award, Carol Wyer's crime novels have sold over one million copies and been translated into nine languages.
A move from humour to the 'dark side' in 2017, saw the introduction of popular DI Robyn Carter in Little Girl Lost and proved that Carol had found her true niche.
February 2021 saw the release of the first in the much-anticipated new series, featuring DI Kate Young. An Eye For An Eye was chosen as a Kindle First Reads and became the #1 bestselling book on Amazon UK and Amazon Australia.
Carol has had articles published in national magazines 'Woman's Weekly', featured in 'Take A Break', 'Choice', 'Yours' and 'Woman's Own' magazines and the Huffington Post. She's also been interviewed on numerous radio shows discussing "Irritable Male Syndrome' and 'Ageing Disgracefully' and on BBC Breakfast television.
She currently lives on a windy hill in rural Staffordshire with her husband Mr. Grumpy… who is very, very grumpy. When she is not plotting devious murders, she can be found performing her comedy routine, Smile While You Still Have Teeth.
To learn more, go to www.carolwyer.co.uk, subscribe to her YouTube channel, or follow her on Twitter: @carolewyer
Follow her at: